Did you enjoy the video? Check out the LABAP VIP course that will help turn you into an auto body and paint pro, from home!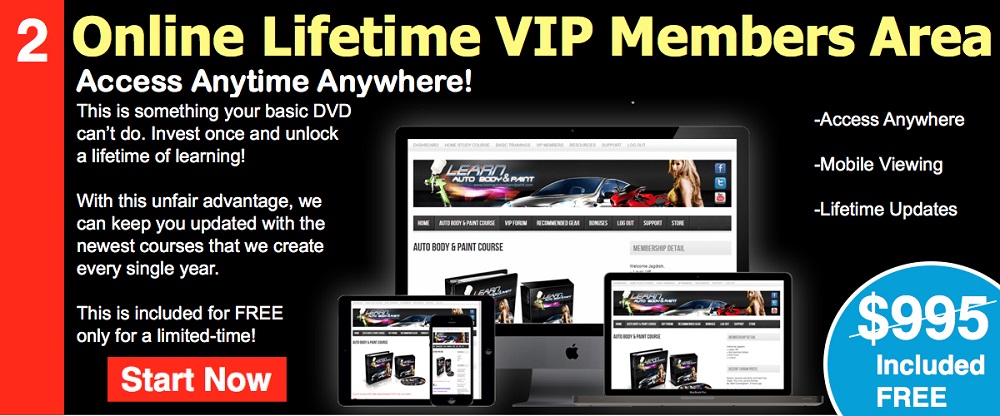 Correct Spray Gun Air Pressure is Crucial for a Successful Paint Job
In this post not will I only cover the correct spray gun air pressure that's needed for a great paint job, but I will also touch on HVLP, LVLP spray guns and air compressors.
When I talk about air pressure, I don't mean air cap pressure. I am referring to air pressure at the neck of your spray gun dial when the trigger is pulled.
Let;s get into it shall we?
High Volume Low Pressure Spray Gun (HVLP) Air Pressure Setting for Base Coat Clear Coat
When spraying base coat you want to spray at about 26-29 PSI. They way you read this is at your gun, trigger pulled air flowing through and your dial reading 26 psi. 
When spraying clear coat I like to up the pressure 2-3 psi for a little more atomization and better flow out. Setting the air pressure to about 28-29 PSI for clear will ensure you having great flow out.
Most HVLP spray guns will use 10-14 scfm at 40 psi. This is volume of air pressure per cubic foot.
Low Volume Low Pressure

Spray Gun

(LVLP) Air Pressure Setting
10-15 psi when trigger is pulled for base coat is what most say to set your gun at. Personally I spray at about 17 psi when spraying base coat and 20-25 for clear coat using the low volume low low pressure spray guns.
The normal scfm that these guns use is 5-7 scfm cubic foot per minute. Volume of air used at 40 PSI.
Introducing the Atom Spray Guns! This line of spray guns are gaining a lot of popularity in the automotive world as it has a uniquely combined Japanese and Germany-style craftsmanship.
Excellent quality but at a fraction of the cost of the more popular spray gun brands. Learn more about the Atom Spray Guns on Zoola.
Air Compressor Needed To Setup Shop
When shopping for an air compressor, beware of the air compressor ratings.
Nowadays, compressor ratings are inflated (what else is new) lol…
You must check the rating number "under load". This is the actual HP, horse power rating. Don't pay any attention to what the number days on the big box or sticker.
Here is a great read on the big lie of air compressor ratings.
Spray Gun Air Pressure for DIY Use

Air Compressor
A 20-35 gallon (75-133 liter) air tank that pushes out anywhere from 1.5-2.0 horse power under load is a great small setup.
You would be ok painting a small car or motorcycle using this tank with a LVLP spray gun.
The only warning would be condensation.
Be sure to have at least two water filters. One 10-15 feet from your tank and one at your gun neck to keep the water out of your lines.
When using a smaller compressor keep in mind that you'll probably be using a 110 V outlet and the max HP a 110 can put out safely without it kicking off your breakers is 2 HP.
Check out the amazing Atom X Finishes Spray Guns here on Zoolaa now. With combined Japanese and Germany-style craftmanship, these high quality spray guns are definitely a league of their own. The Atom Spray Guns have both LVLP and HVLP as an option. Grab them now.
Hard-Core Hobby/PRO Use Air Compressors
A 50-100 gallon air compressor size (189-378 liter) with a horse power rating of 4-6 HP.
Of course this is will be using a 240 VAC wiring system. Similar to your home dryer or home central AC system.
To read more about air compressor ratings go here.
Ready To Become an Auto Body Samurai?
Hai Sen Sei!
I am ready to learn more about auto body and paint so I can kick butt and chew bubble gum.
Learn about the 7 Must Have Auto Body Tools Here.
Our Private and Exclusive Auto Body VIP Course will take you by the hand and guide you step-by-step from A-Z, this way… you can complete your special project FAST and have full support along the way.
We currently have thousands of raving VIP members from all over the world who are getting the results that they want by using our system.
It's not just a DVD or a set of DVDs, it's video training, step-by-step manuals and technical support.
In a nut shell, you won't be left out in the cold anymore. You'll be part of a community who cares about your success.
If you do decide to join us 'inside' then we'll see You inside.
I hope you liked this post and video please like if on FB, share and email it to a friend that you think can benefit.
Don't forget to post your comments below, I would love to hear from you.
Thank you for reading!