Did you enjoy the video? Check out the LABAP VIP course that will help turn you into an auto body and paint pro, from home!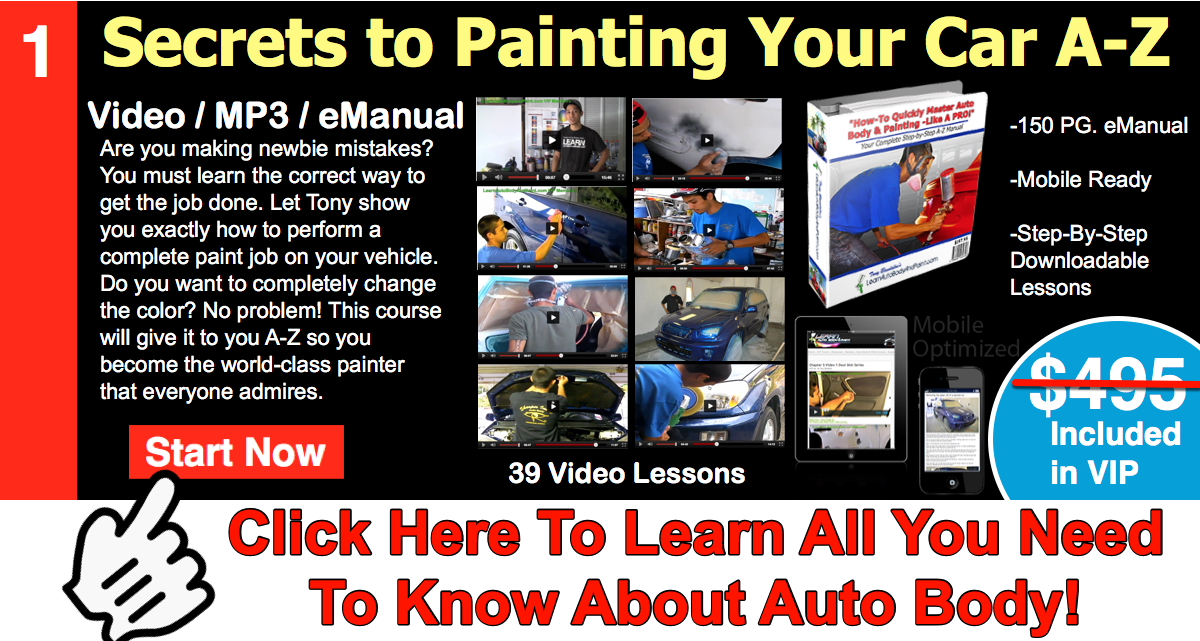 Want To Learn a Little About Automotive Spray Paint Guns – HVLP Spray Guns & Siphon Style Guns?
Here we go…
Back in the day, the most common paint guns used were all siphon style guns, such as the gun with the cup below the spray nozzle shown in this video. They worked great but they were not the most efficient guns in the market.
As time went on a new style of gun came out which was called the HVLP gravity feed gun. Gravity feed basically means (gravity pulls the paint down into the neck of the gun). The nozzle and air cap pressure ratios were reinvented to be very efficient using less paint and having much less over spray.
Now we have disposable cups like the DeVILBISS DeKUPS for the HVLP spray guns. This is NOT a necessary upgrade, but it makes cleaning much easier.
I will be doing a live video review on these kups very soon so be on the lookout for it.
When they first came out I thought who would waist money and buy these things… but as time went on I found myself buying them and actually using them on occasion.
You can mix paint in them because they are clear which makes measuring easy, plus they can also be cleaned and used a few times before tossing them out.
Not only do they fit their own line DeVilbiss but they sell adapters for most of the common guns like SATA and Iwata. I'm sure the adapters will fit most 99% of guns as the threads are mostly the same.
In all, if you're planning to get into automotive painting and graphic design you may want to look into a HVLP (high volume low pressure) spray gun and perhaps even get a DeKups starter kit which includes a bunch of kups and accessories to get started with the system for under $25.00.
Looking to buy a high quality spray gun? Look no further.
Do you want to get a German or Japanese high end spray gun like an Iwata or SATA for a fraction of the cost? Check out the Atom X Finishes Spray Guns. With a unique combined Japanese and German-style craftmanship, these spray guns are definitely a league of their own.
These spray guns are the ONLY spray guns that we use now for all of our projects. They spray FANTASTIC, are made with high quality materials and craftsmanship. And you get it all for about 1/3 of the cost. Grab them on Zoolaa now.
We hope that you enjoyed the post and please leave your comments and share with your buddies.
Thanks for reading! and to your auto body and paint success 🙂
Tony
P.S. If you haven't yet seen this video on how the VIP Auto Body Course Will Make You Stand Out From The Pack then Go Here and watch it now!