7 Must-Have Auto Body Tools
When getting started in the auto body repair business, let's face it… you need some auto-body tools.
You may be a hobbyist or you might be looking into an auto body and paint as a new money-making venture for yourself (which we also show you how to start in LABAP VIP). Whatever your choice is, if you want to paint a car and start doing up your projects, you need to start building your tool chest.
Spray guns and all that good stuff. Looking for top-quality spry guns that we use? Check out the ATOM-X spray guns here.
Today we're going to talk about the 7 most common auto body and paint tools that you'll probably end up needing in the near future if you already don't have them by now.
Did you enjoy the video? Check out the LABAP VIP course that will help turn you into an auto body and paint pro, from home!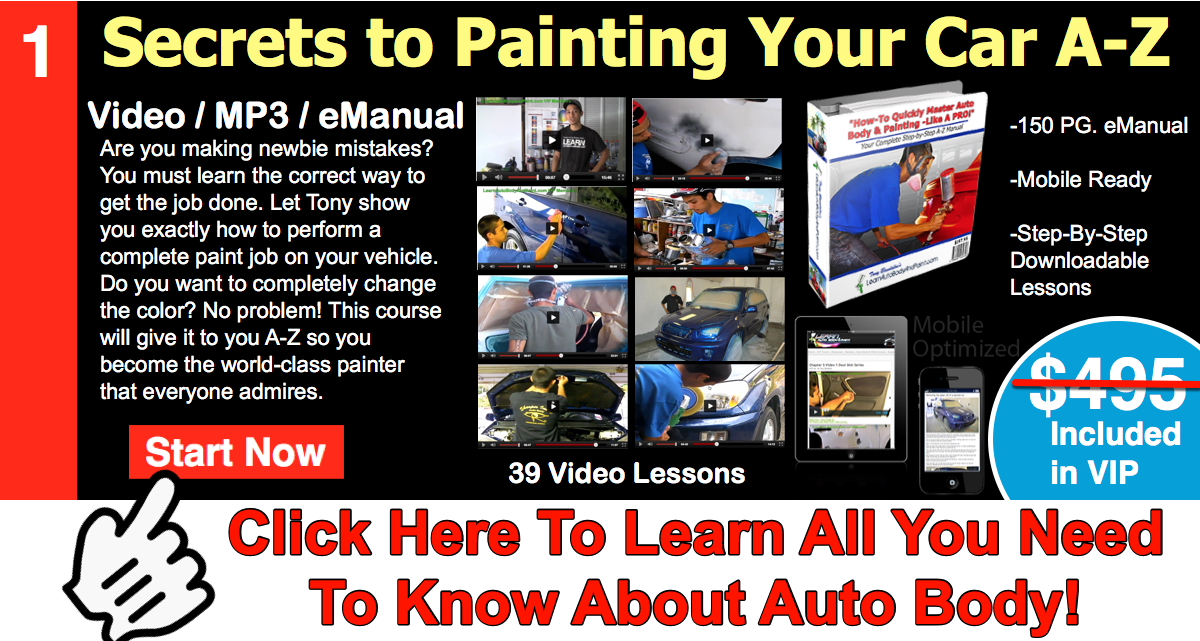 1. Air Compressor
If you're serious about painting cars and auto body repair as a money-making venture then you'll want an air compressor that will last you years and years to come.
Then I recommend picking up a 240V 60-gallon with a 5-7 HP setup.
(See detailed post on the best size air compressor you need here).
It's perfect for painting a car, or a large van and will power all of your air tools with ease. It's a workhorse that you'll be proud you bought. Bigger is better when it comes to compressors.
If you want something small and only plan on painting touch-ups and motorcycles then a 25-35 gallon air compressor will work for you.
SIDE NOTE: You can and I have painted a full car with a smaller 30-gallon tank. You just need to keep your eyes and ears on the pressure fluctuation and adjust accordingly while you paint I don't recommend it,  but it can be done.
I get asked all the time …" Tony what kind of spray gun should I get?" I always reply with "get what you can afford?" …If you can afford $1,000. SATA, then get it because it's one of the best brands out there along with Iwata.
It will definitely show a difference when laying your paint, OR you can get the new ATOM X spray gun for a fraction of the cost compared to the SATA, plus you get the same results. And I proved it.
The ATOM is the main spray gun that we use at the LABAP Headquarters. Shop for an ATOM-X spray gun here. These guns are simply amazing and you now officially get MP technology which means less overspray, less paint waste, and better direct coverage on your panels.
Just remember that you don't need the BEST gun when getting started. When I first started painting, I started with $100. Astro spray gun. I don't even think it was an HVLP. But I painted for at least a year or two with that same gun. Remember, as you get better, you can invest and get a better spray gun. You'll start to notice that your paint jobs start to come out better with a spray gun that atomizes correctly. This is one of the most important factors.
You want a spray gun that properly ATOMIZES your paint into fine particles onto the panel, which will result in a glossier professional paint job. Of course, your spray gun speed and material flow also play a factor. But a good gun is also key to superior finishes.
Do you want to get a German or Japanese high-end spray gun like an Iwata or SATA for a fraction of the cost? Check out the line of ATOM-X at ZooLaa.com (a great site for high-quality spray guns and pearls and flakes).
These spray guns are the ONLY spray guns that we use for all of our projects. They spray FANTASTIC and are made with high-quality materials and craftsmanship. And you get it all for about 1/3 of the cost compared to the most expensive spray guns on the market while getting the same professional features and qualities.
3. Dual Action Sander
Now, This is not really a MUST-HAVE but will save you a TON of time with basic sanding and body filler shaping. Get one if you can afford it. They cost anywhere from $50. – $175. (see a complete post on Dual Action sanders here).
I show you exactly how you can use one of these to cut some MAJOR time off of your bodywork and sanding times. Don't worry, all of these strategies are located in our Learn Auto Body VIP course and you can learn more about that here.
4. Slide Hammer/ Stud Welder
If you're planning on repairing some form of dents and pulling out panels then one of these is a must. You can go with a cheaper version and get a basic slide hammer that uses screws and or hook adapters to pull out dents. Or your other option is to invest in an electric stud welder.
When they first came out you'd see them being sold for $350. – $450. Nowadays you can pick them up for under $190. Not bad!
If on a budget, do not count out local swap meets or your local online classifieds to pick up great used tools. I have had many VIP members score compressors and a ton of auto body and paint tools from craigslist.com and other popular classifieds online for fractions of what they would have paid if they had bought them new.
If you're not sure how to use one of these, don't worry because we have step-by-step videos in our VIP area that will walk you through the entire process and show you how to use these same tools with maximum results and success.
Yes, we also show you 'insider' sneaky tips and tricks that only auto body pros really know about :).
5. Auto body Hammer and Dolly Set
Ready to whip panels back into shape? Ready to be the real deal with the steel?
Then get yourself a nice auto body hammer and dolly set. You'll need them. There are different hammers for each unique job. Expect this set to cost anywhere from $30. and up to $150. for a brand name like Eastwood.
This is a set that you'll probably only buy once in your life. I still have and use my father's originals. If you get the wooden handle kind, the handles are the only part that you'll really end up replacing over the years.
6. Autobody Sanding Blocks
We all need a sanding block. My favorite is the Holy Block (picture below) they work really well for me. There great wet or dry and has a nice flex to them. Durablock is another great brand with all types of shapes.
Sanding blocks are crucial when doing autobody repair. You need them when color sanding and buffing, for shaping body filler and you need them to help to with cutting high spots and to help you find low spots in your bodywork. Auto body blocks are a must-have on the toolbox and are very affordable.
7. Body Filler/

Bondo

Spreader and Putty Knives
Putty knives or Bondo spreaders are used to mix body fillers aka (Bondo). You can get them in metal or plastic.
I used to like the metal ones because they last longer. When they get caked up with filler you can clean them fairly easily with your DA sander or on a wire wheel very easily.
What I don't like about the metal type is that, once you're finished applying your filler, you need to clean them right away. If you don't, it's a little harder to clean than the plastic ones.
With the plastic applicators, after your finished spreading your filler, you can basically leave the Bondo on it. After it hardens you can easily peel it off and you're ready for your next mixing and application.
That's why I rather use the plastic-type in combination. Below you'll see both types of applicators. Metal and plastic.
PHEW… That was a lot of information!
Now, don't get me wrong.
You can do bodywork without a few of these auto body tools such as the DA sander and Hammer set but you'll be very limited on what you can repair.
…And over time, you'll probably end up adding more tools to your man cave but for now, I really think these 7 tools above are the basics and essential for completing some awesome auto body repair jobs.
Other Auto Body and Paint Tools You May Need:
-Mig Welder
-Plasma Cutter
-Car Lift
–Pneumatic Straight Sander
-Spot Welder
–Cut off Wheel
–Grinder
–Buffer/ Polisher
-Mini Frame Machine
I hope you enjoyed this post and I hope that it was VERY helpful for you and gave you an idea of what you can build up to. Your home garage is awesome.
I know the feeling of building one. Let it be your place to hang out and build out AMAZING projects.
Let us also help you learn EVERYTHING YOU NEED about auto body repair and painting. Check this link out here today to see why THOUSANDS of VIP members are raving about our awesome Auto Body VIP course and private community support. Isn't it time for you to get REAL Results out of your projects?
Please leave your comments below talking about your favorite tools and any other thoughts that you may have for us. We would LOVE to hear from you!
-Tony