Did you enjoy this video? Check out the LABAP VIP course that will help you turn into an auto body and paint pro, from home!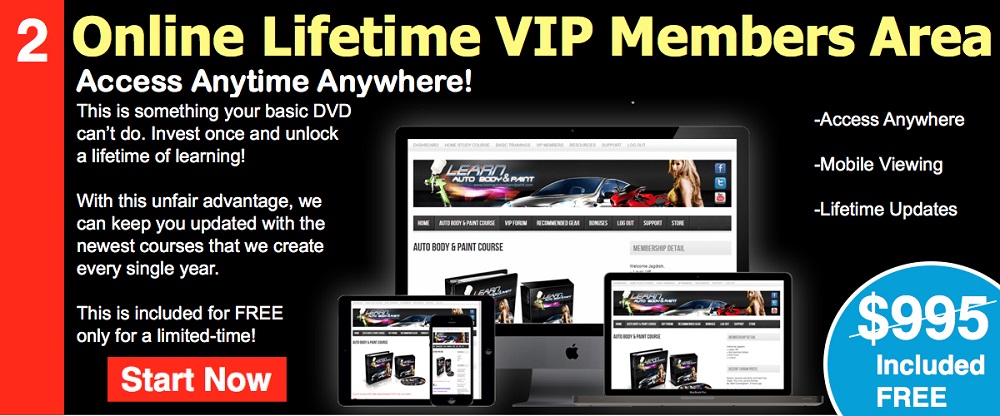 Hey, it's Tony with another live stream. Today's topic is all about Bumper Scuff Repair – Quick Fix Hack.
I was moving cars in and out of the garage yesterday, screwed up my car and gave a nice scuff. We'll go ahead and do a quick fix on this today. I'm going to be selling this car soon. I hit the corner of the garage door. It looks like it's just the surface but we're going to test it out.
The first thing we need to do is get a lacquer thinner and rag to wipe it off. Hopefully, it wipes off easily. Otherwise, we will color sand and buff it, which is quite easy. It looks like we got it. Check out the video.
This is the quick hack that I want to show you today.
Question: What is the best overall spray guns at a really good price? [8:12]
I like the Atom X Series Spray Guns. It's available on Zoolaa so head on over to the website and check out these awesome spray guns at really affordable price.
I do plan on doing a lot of new materials such as primers, clear coats and a whole lot more, on my Mini-Truck Project. This Series will be uploaded soon in the LearnAutoBodyAndPaint VIP Program, so for those of you who want access to all of my complete videos, go check out VIP.
Here are all the pearl colors that we stock on Zoolaa now. For all of those who ordered the Atom Spray Guns and the X Finishes Pearls on Zoolaa, we will be shipping them out the first week of July. We are on time!
Let me go through some of the X Finishes Pearls that we have here. We have the Neptune Blue Pearl which we will be using on the Mini Truck Project.
We also have the Carbon Graphite C6 Pearl, Lava Red Pearl which looks like hot pink, Moon Dust White Pearl, Cosmic Red. I know this pearl looks white but if you mix it up, it's actually red. It reminds me of the House of Kolor Rosetta Red Pearl.
Next, we have a Volcano Red Mini Flake. Then, we also have the Venus Gold Mini Flake. These pearls are $29.95 for a 3-ounce pack, which is way more than enough to do a complete paint job. Of course, depending on how much pearl or flake you want.
We also have Galaxy Rainbow Mini Flake, Vega Blue Mini Flake. Now here, we have the Deep Sun Gold Pearl, which is one of my favorites. This is a beautiful gold pearl.
Lastly, we have the Ultra Silver Mini Flake. If you want to play around with custom painting, I suggest you grab this pearl. You can put this over any base coat color and would still look great!
Again, all of these X Finishes Pearls and Flakes are available on Zoolaa. X Finishes use the most organic pigments to make these pearls. It's really good material and high quality. Go check it out now. They are freakin' awesome!
Question: Where can I get my auto paint online? [16:33]
I order mine on English Color. You can go to any auto body shop in your local area, you can ask where they get their paints.
Question: What do you guys recommend for price on a recolor from black to blue on a BMW Z3 rear quarter panel? [19:10]
If you are doing a recolor, you're spraying the whole car. What exactly are you doing?
Question: What PSI do I paint at? [20:29]
For base coat it should be 26-27 psi. For clear coat, it's 28-29 psi.
For those of you who want to start their own car projects, don't forget to grab your FREE 85-Page Auto Body And Paint Manual and get started with your own custom projects.
It's Tony from LearnAutoBodyAndPaint. Thank you, everyone for joining me today. Please Like, Share and Subscribe to my videos!
Talk soon! Cheers!
Tony
Other Helpful Links:
Congratulations to our Atom X16 Mini Spray Gun Winners
Start Body Work and Epoxy Work for Bumper Lip
How To Repair Plastic Bumpers – 4 Plastic Bumper Repair Tips
How To Paint Plastic Car Parts (aerosol bumper paint)