Hey Guys!
Here is a video and some images below of the Learn Auto Body And Paint VIP Member Shirts that you're all going to have the opportunity to get sent to your door!
Once your an official LearnAutoBodyAndPaint.com VIP Member, not will you only be on the fast-track to starting your new auto body and paint education, you'll also have VIP access to the private forum where you can interact with hundreds of like minded members from all around the world.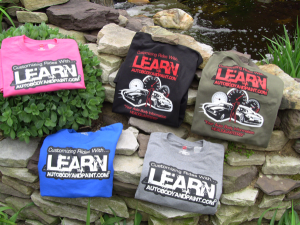 With over 70 PLUS HOURS of step-by-step auto body and paint training, you're bound to get the ULTIMATE DIY Experience. Complete trainings that are proven to satisfy do-it-yourself car enthusiasts worldwide.
Whether you're a total auto body beginner or an advanced body man, we have confidence that you'll learn advanced and cutting-edge strategies that will get you on a rolling start.
Let's Get You Started TODAY!
CLICK HERE to join the community and become a LABAP VIP MEMBER!
Be cool!
-Tony
P.S. Leave your comments below! and grab one of the Learn Auto Body And Paint VIP Member Shirts! 
Don't forget to download the FREE 85-Page Auto Body And Paint Manual! 
Other Helpful Links:
How To Get a VIP Member Shirt Sent To Your Door (VIP MEMBERS ONLY!)
How To Paint Your Car Interior – Car Interior Painting Tips!
Discover Auto Body Preparation Tactics
How To Paint Your Car From Home On Budget!
A Few Great Auto Body & Painting Tips!
How To Paint a Car – Learn Auto Body And Paint from Home 🛵
P.P.S. 
For awesome spray guns at the an affordable cost, check out the Atom Spray Guns on Zoolaa now! 
Introducing the New ATOM X Series, with unique beauty, feel, and performance. This is literally the new generation in high-performance automotive refinishing spray guns.
The ATOM gives you the ultimate MP atomization that you can get for your money. MP technology gives you greater material coverage with less overspray resulting in end-to-end straight line coverage with professional results every time you spray.
With a maintenance free no-o-ring design, you may never need to rebuild your gun, but (we do offer affordable rebuild kits) for those who want the extra insurance.
Tip kits are affordable and very easy to install (about 30 seconds flat).
Think German and Japanese style, craftsmanship, quality and performance for a fraction of the cost of what you would normally pay.
You could easily find yourself spending $1,000 or more for a comparable spray gun if you don't invest in an ATOM X. We say, keep the extra cash that you save and purchase more paint and materials. Try the Atom X, you will not be disappointed.