Discover When it is Best to Paint Complete Auto Body Panels Over Just Sections of Panels and vice versa.  Plus, the Benefits of Blending Paint during Paint Application.
Most vehicles are composed of a number of separate sections and parts that are welded or bolted together, resulting in a single motorized unit.
Professionals concerned with auto painting will refer to these parts as auto body panels, such as quarter panels, door panels and rear body panels.
When to Paint Complete Auto Body Panels
If there is a lot of body collision damage or the paint job is a simple repaint, you will have to spray complete auto body panels in lieu of spraying specific spots.
Whether to spot paint the panel or paint the entire panel depends upon the type and style of the existing paint finish, the size of the repair area and the ability to blend new paint into the surrounding body paint.
If a vehicle had minor dents scattered all over its hood for example, it would be much easier and the finished look much more uniform and professional if the entire hood was completely prepared and painted all at one time, rather than spot painting each individual dent. Likewise, it is true for other auto body panels also.
Part Panel Painting:
There are some situations where you can get away with painting just parts of auto body panels, as opposed to entire units.
Lower panel sections up to featured grooves, ridges or trim lines on doors, fenders/wings or quarter panels are examples of this situation.
Blending Paint during Paint Application:
With the arrival of base coat clear coat paint systems, blending paint during paint application has more or less eliminated panel painting.
Even with the availability of the correct paint code, the surface properly prepared and the paint applied perfectly, a panel painted separately will most likely not match the rest of the vehicle.
Blending can also be achieved using single stage paint products; however, if you are not well-versed in the art of blending paint, a base coat clear coat paint system is the best option to you.
Although it is true that the actual color of the repaired area may not match the adjacent auto body panels exactly, the blend will create such an illusion that the affected area will not appear to have ever been touched.
To the contrary, you can easily spot the difference between two adjacent auto body panels that have been painted separately once they are reinstalled back onto a vehicle.
When painting auto body panels, color blending and uniform paint feathering are of utmost importance.
Your aim is to apply the paint in such a manner that no definite edges are visible. This will allow you to make the area appear as if it had never been repaired or repainted.
This is the main reason why some single-panel repaint jobs require the adjacent auto body panels on either side to be lightly sprayed with feather coats of paint; it makes the painted panel blend in with the surrounding auto body panel.
I hope you liked my blog.  I'll see you soon! Cheers!
-Tony
Did you enjoy the blog? Check out the LABAP VIP course that will help turn you into an auto body and paint pro, from home!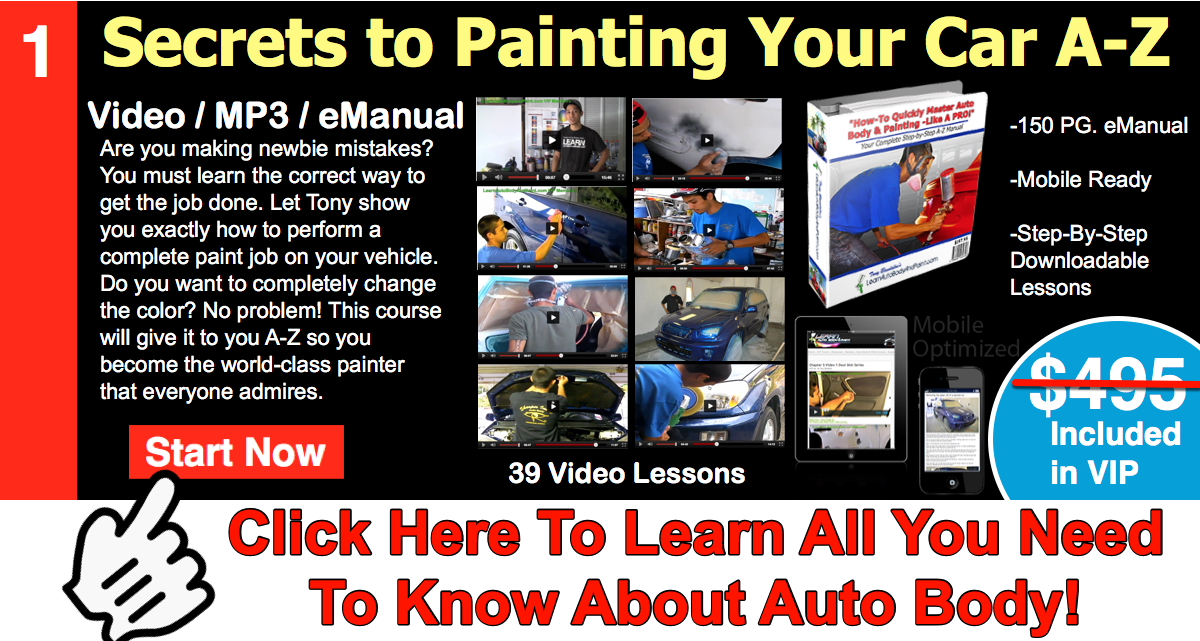 Other Helpful Links:
Auto Painting Undercoats and How To Use Them Correctly
How To Fix Scratches in Car Paint at Home
Automotive Spraying With The Proper 50% Overlay – Spray Painting Overlay Techniques