Did you enjoy the video? Check out the LABAP VIP course that will help turn you into an auto body and paint pro, from home!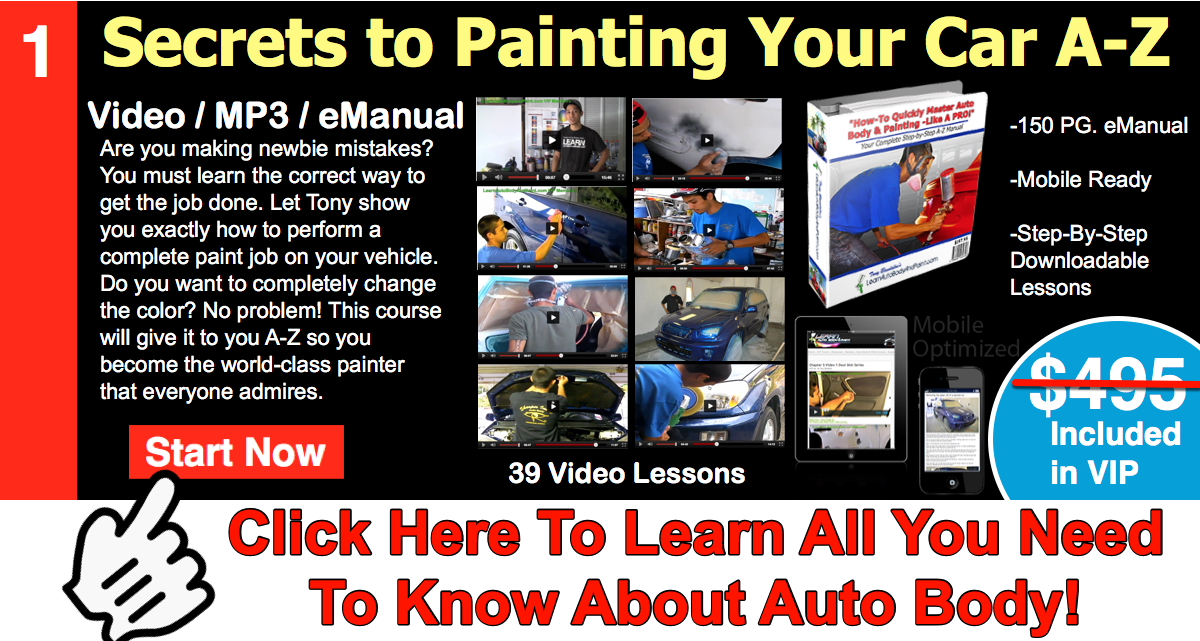 Sending all of you an update from Japan. I hope everyone's doing well because I am definitely good! Today's blog is entitled Auto Body Repair Q&A …and Hello From Japan!
Here's an update from all of the VIPs. We're testing out a new site called Kajabi and we might be moving over to this pretty soon.
What kind of projects are you guys doing now? Let me know and we'll proceed with our Q&A.
Question: I have a truck with a little bit of surface rust. What is the best way to prep it? Sandblast and paint? Clean and undercoat? [9:17]
If it's exterior surface, you can sand it and epoxy prime it or media blast it, which is like sandblasting. Or, you can use high pressure water. Lastly, you can use a chemical stripper.
There are various ways to do it. But, you want to take off the rust and paint and use epoxy primer to go over it. Then, you could do your glaze putty and 2K primer to fill up all of the imperfections that the surface has.
I talk about that in the LearnAutoBodyAndPaint VIP Course. For those asking, there are two different ways to join LearnAutoBodyAndPaint VIP. You can do monthly subscription or lifetime VIP membership. It's your choice. Either way, you will have access to all of my training videos, e-reads and bonuses. It's over 72 hours of video training, which I'm sure you will love and benefit from.
Now, those who want to get started doing their own custom projects, grab your FREE 85-Page Auto Body And Paint Manual. It will be beneficial for you if you want to start cranking on your own cars.
Those who are asking about the Atom Spray Guns that are unavailable, we are currently waiting for the new batch to arrive and we expect to be fully stocked up by the end of the month.
If you are interested to check out these awesome spray guns, head on over to Zoolaa and learn more about the Atom Spray Guns.
I made a lot of videos using the Atom Spray Guns before I left Texas. I have yet to edit them and upload them, so I will be adding new videos and content pretty soon. Watch out for it.
Question: Do you have any paint cup filters? [15:26]
I don't have them on stock currently. But, I am still working on adding more products on Zoolaa. I recommend you check Amazon in the meantime for these items.
Question: If I have light imperfections that don't need to go to metal, can I sand with 80-grit and apply filler? [15:45]
Yes, but it depends on what you mean by light imperfections. Do you mean dents? Or rock chips? If it's rock chips, I wouldn't sand to 80-grit as it's too much. You want to hit it with a 360-grit or 320-grit. You can even feather it out and water sand it flat. Then, lightly prime the area.
If it's a light dent, you could scuff it with 150-grit. You don't have to go down to metal. You go down to metal on huge body work areas or anything bigger than three inches in diameter. But if it's just a dime-size or quarter-sized ripple that you want to fill, try to push it from the back and get it flat as you can, then scuff it with a little bit of 150-grit. You don't have to go down to 80-grit.
It's Tony from LearnAutoBodyAndPaint. Thanks everyone for joining me today. I really appreciate your support. You guys rock! I am so stoked to see everyone here today. Next week, we'll be streaming same time in Hawaii. I will be staying here for a couple more days then heading to Hawaii. Please don't forget to SMASH that Like button, Share and Subscribe to my videos.
Cheers! Talk soon!
Tony
Other Helpful Links:
DIY How To Bondo Auto Body Repair (Tips and Tricks) Mix and Apply Body Filler
Learn Paint Chip Repair And Auto Scratch Repair Step-By-Step
How To Repair Rust Using Kitty Hair or Bondo Hair
Live Dent Repair Demo Using Grinder and Stud Welder Gun Plus Q&A
A-Z Sandpaper Grit and Primer Steps To Repair a Panel + Auto Body Q&A TALK!