Did you enjoy this video? Check out the LABAP VIP course that will help you turn into an auto body and paint pro, from home!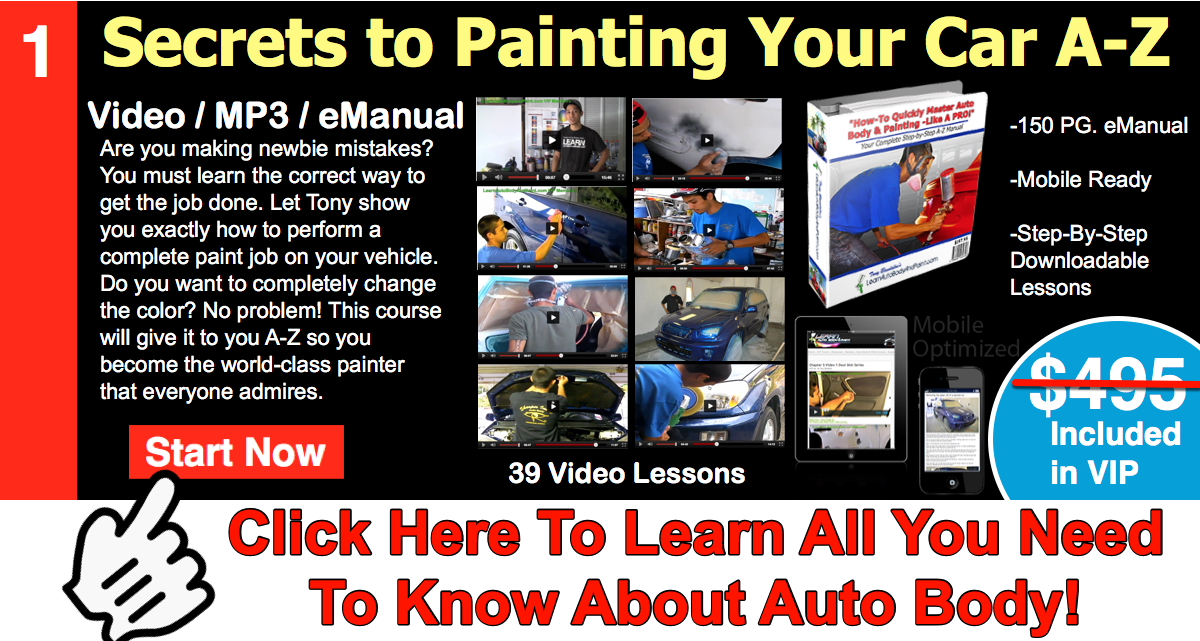 Hey, it's Tony. Thanks for watching my video and reading my blog. Today's title is DIY Auto Body And Paint Questions and Answers Replay!
I had a question about pearls. Yes, you can also mix pearls in your clear coat. That's what I like to do. You can use an intercoat, which is a clear base coat, mix your pearls in it, and spray that over, then put your clear on top of it. You wouldn't run it as much. Base coat is hard to run unless you're really soaking it on.
You can also mix your pearls right into your clear coat and spray it. The only thing is, you have to be careful not to run. If you run pearl or flake in clear coat, you're going to get that drippy pearl. If you color sand and buff that, you might have that drip of pearl.
I usually like to just mix it in my clear coat because it's easier. The pearls are so fine that you don't have to actually lay a solid clear on top of it. You can just finish it off with two coats of clear on it then you're done.
Question: What do you think about spray on chrome? [2:10]
I think spray on chrome is cool. There's a bunch of kits out there. Usually, you're going to be spraying that chrome over a black base coat since black is the foundation of spraying chrome over.
Question: I did the quarter panel of my Yukon about a month ago and the clear coat is flaking. What did I do wrong? [2:25]
It could be bad clear or improper sanding. It's kind of odd to have it flake like that. Basically, you need to do the job over. You need to sand it all off and smooth, put a fresh coat of base on it and new clear. Make sure you're using a good clear.
Question: Can you base coat and clear over 2K primers? [3:13]
Yes, absolutely.
Question: Why do I have yellow spots on final paint and there are white parts where I put bondo. [3:31]
Your bondo is bleeding through. Maybe you didn't put enough primer on your bondo. You didn't get it fully sealed with a good 2K primer and then you should sand it properly.
You always primer over your body work to seal it up. Make sure it sanded with 400-grit and then you do your base coat. You also need to make sure your base coat is not laid on too thin. You need to put a good 2-3 coats of heavy base on it.
For all of you who don't have my manual yet, grab your FREE 85-Page Auto Body And Paint Manual and get started with your long overdue car projects!
Question: What's the recommended spray gun to use? [8:21]
I used to like the Warwick Spray Guns. However, check out the new Atom X Series Spray Guns. These are professional spray guns that will give you German and Japanese style, craftsmanship and performance for a fraction of the cost. With a no o-ring design and pure spraying simplicity at it's finest. Head on over to Zoolaa and check these awesome spray guns out.
Question: Which do you prefer, Tig or Mig? [8:45]
It depends on what you're doing. I haven't been doing a lot of welding lately. However, I do have a Mig Welder.
Question: Where do you get your paint from? [10:03]
I get it from English Color. They have stores all over and have one right down the street.
Question: What tools should I get for auto body and paint? [10:38]
It's nice to have a DA orbital sander to cut some time, a spray gun, a buffer and some hammers and dollies, some body tools for basic body work. You can also have a stud gun if you have the extra money.
You're also going to need an air compressor to power your tools. Then, lastly your materials such as sandpaper, masking tape, paper, paint, etc.
I give you a lot of the basics within the LearnAutoBodyAndPaint VIP Program. I teach you everything from A to Z.
Thank you everyone for joining me today. Jump in every Thursday at 9pm Eastern and let's talk more about auto body.
Please don't forget to Like, Share and Subscribe to my videos. Keep on cranking guys!!
Talk soon! Cheers!
Tony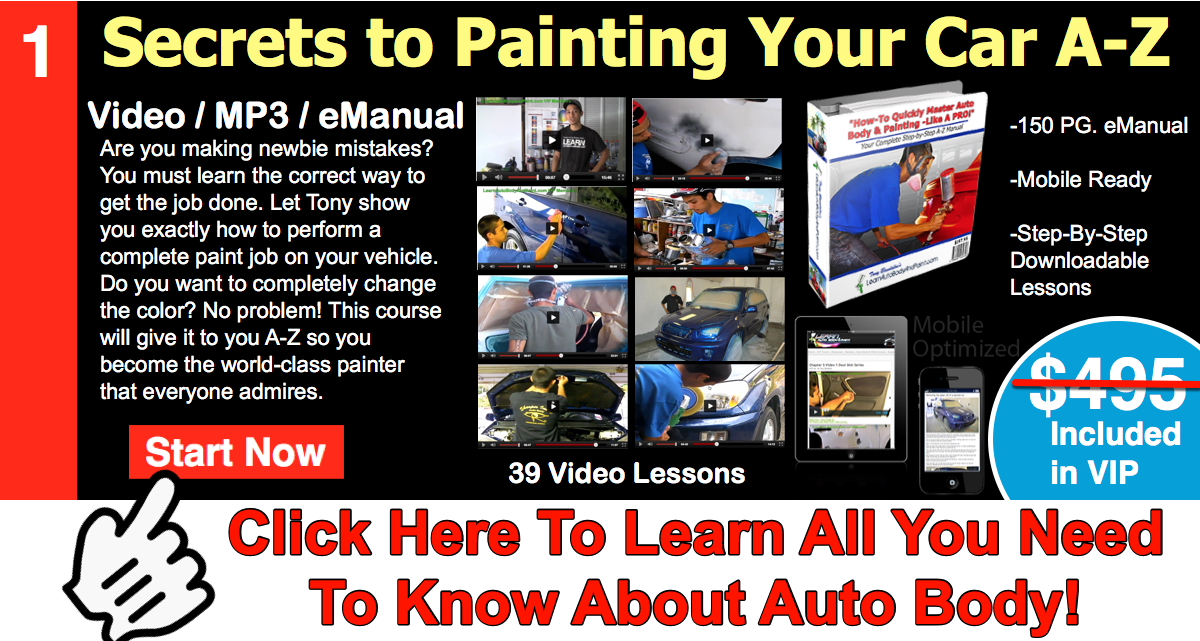 Other Helpful Links:
Master Your Auto Body Skills Now! Join LearnAutoBodyAndPaint VIP!
PAINT PREP: The Parts or Trim That You Can Remove When Painting Your Car
How To Import Unique Cars and Sell for Profit Flipping Cars Made Easy!
Quick and Easy Cheats On How To Use a Stud Gun Welder
DIY SPECIAL: Step by Step Auto Body And Car Painting Footage for Newbies