Did you enjoy this video? Check out the LABAP VIP course that will help you turn into an auto body and paint pro, from home!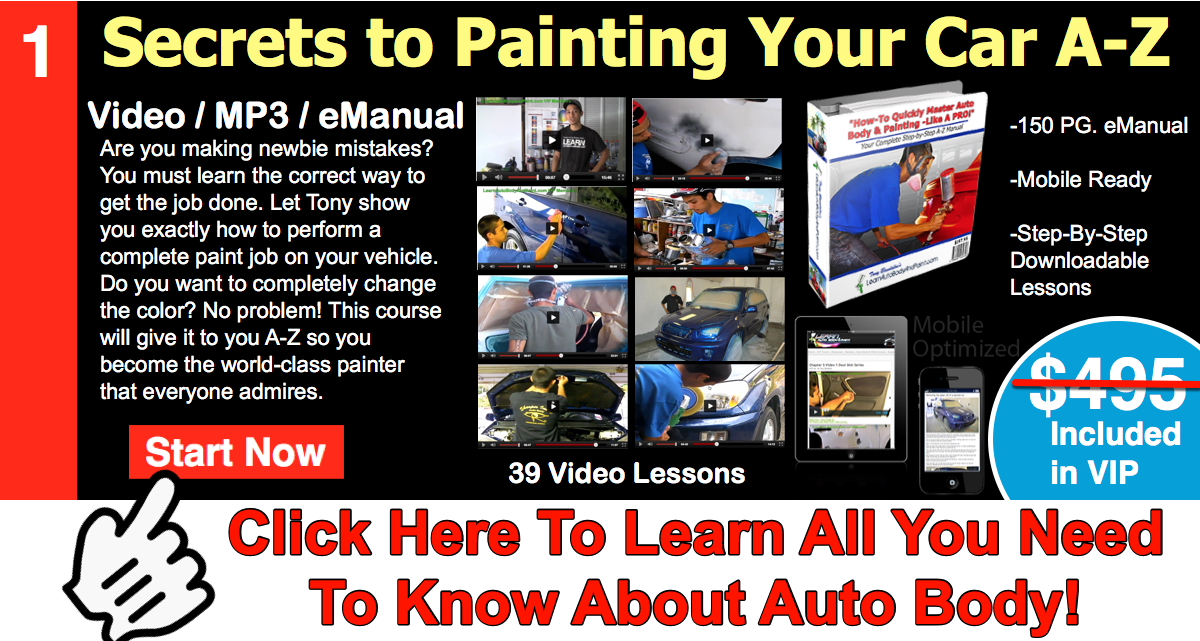 Hey, it's Tony from LearnAutoBodyAndPaint. Thank you for watching the video and checking out the blog today. Today's topic is New Auto Body Paper Machine! $59 BUCKS! – Auto Body Updates.
I just wanted to do a quick update. I'm little excited today because I just got my new paper machine. My dad had one in Hawaii but when he passed away, I wasn't able to get his when I moved to Dallas.
I paid $59 for this paper machine. It's not too bad. This is how it's going to look like when it's put together. Check out the video as I show you the box.
Let's do some quick Q&A and before we wrap it up.
Question: What grit do you sand after primer? [4:23]
You always want to paint after 400-grit. In my experience, 400-grit is the best tooth to paint over.
Question: My dent flashed back in after two layers of bondo. What should I do? [4:58]
You need to grind it down and make sure that your metal and steel is tough enough for it not to pop back in. You need to pop out the low areas. Then, tap around the area.
If you have a piece of steel that's buckled in, you didn't do well enough. You have to pull it a little bit more to strengthen up the steel. You have to tighten up the metal. It's too lose that from the impact, it stretched.
Question: When I paint over primer, I see scratches. What am I doing wrong? [6:57]
Your primer is not smooth enough so you need to cut it down. You might may have too many sand scratches from your body work that your primer didn't fill. You need to refill that primer. Then, block sand it out. Or, maybe you just didn't block sanded it enough to get those sand scratches out.
The 80-grit sand paper is too coarse to prime over. I like to do rough draft body work bondo with 80-grit to 150-grit. If you can get to a 220-grit to 280-grit before primer, that's a pretty good grit to 2K prime over.
You can even go smoother with 320-grit to 360-grit. Then, 2K primer over that. The 2K primer is a really thick stuff.
Question: What size of air compressor are you using? I'm using a low volume low pressure spray gun. [9:21]
The Atom MP Technology is what I recommend. These are really good guns to spray with. Check out Zoolaa for these Atom X Series Spray Guns.
It's Tony from LearnAutoBodyAndPaint. Thank you for joining me today. I just wanted to give you an update today.
You will see the complete step-by-step series of this Daihatsu Mini Truck Project in the LearnAutoBodyAndPaint VIP Course. Don't forget to grab your FREE 85-Page Auto Body And Paint Manual to get started with your own custom projects.
Please Like, Share and Subscribe to my videos. Join me this Thursday at 9pm ET for our regular live show.
Cheers! Talk soon!
Tony
Other Helpful Links:
Auto Body & Paint Materials You Need To Paint Your Ride
How Long Should a Auto Body Paint Job Take You?
Learn Auto Body And Paint Live from Japan – Spray Gun Talk and Q&A
Custom Car Furniture Project – Learn Auto Body And Paint
You CAN Paint Your Car At Home – DIY Auto Body Mastery With Tony Bandalos