Did you enjoy the video? Check out the LABAP VIP course that will help turn you into an auto body and paint pro, from home!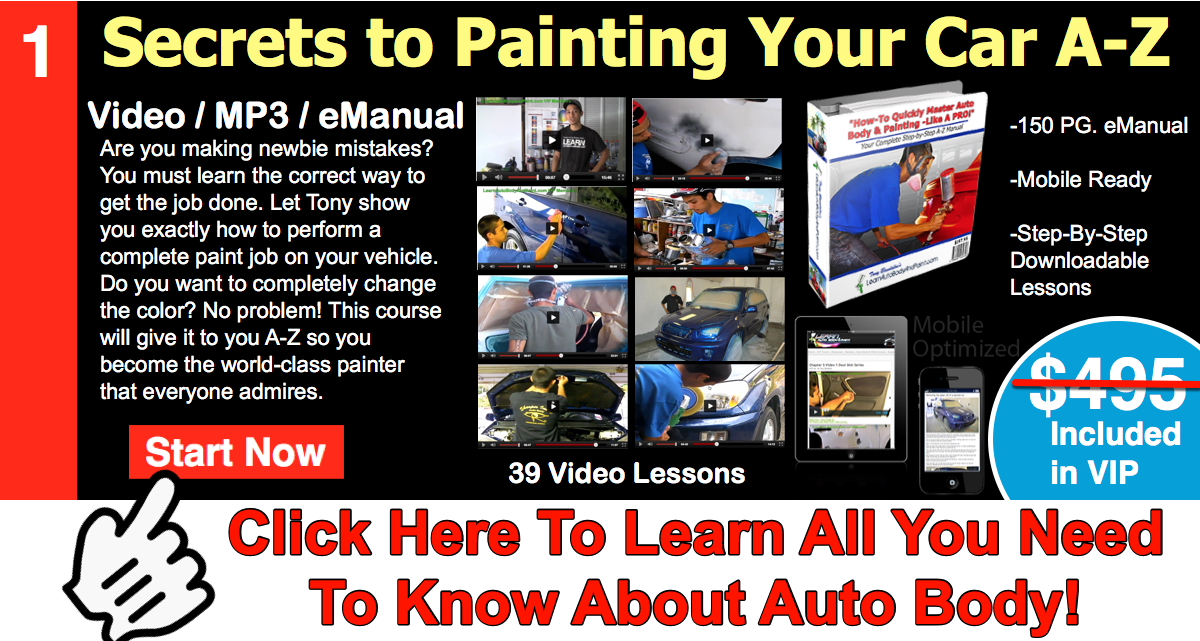 Hey, it's Tony! Thank you for watching the video and reading the blog. Our topic for today is How Long Should a Auto Body Paint Job Take You?
In this video, I want to talk about setting deadlines, getting your body work done, how to time out your projects and how long it takes to do a complete paint job.
Let's go through a couple of things. You want to look at repair job in stages. A complete paint job with average body work will take 40-80 hours, depending on your body work.
The first stage is assessing the damage and getting all the body work done. You can go around the car and check what kind of body work should be done on it.
Does it have chips that need to be sanded out? Does it need bumper cover repairs? We also check out what color it is. You can see in the video the color code under the hood.
I'm not a full time body guy. I only do custom projects, those high end ones or I do projects that I buy and sell for profit and cars that I customize for my own use. That said, I have time to play around with my projects.
If you're like me that don't do body work eight hours a day, you could set a goal of getting all the body work done. That can be a 3-5 day project, six hours a day. You can start with getting the dents done just like what I show you in the video.
I show you how to assess the damage in the LearnAutoBodyAndPaint VIP Program, so go check it out. This literally takes 10-20 minutes immediately when you get the project. You mark out all the damages and strategize the entire process.
Figure out the materials you need and how you're going to start the project. This stage can be anywhere from 3-5 days. This is the first mountain that you need to climb.
Once the body work is done, the next process is getting the body work parts ready for primer. You get everything masked up and prime the spots that need to be primed. This can be done in one day.
The next is sanding the entire car. Block all the primer spots out. You can use a 2K filler primer or a heavy 2K primer sealer or whatever you prefer.
A quicker way to get things done is to have your body work ready for primer at 150-grit to 220-grit. Once your bondo is at that grit level, you can use a 2K filler primer and then, block it with 400-grit.
Once you're done, it will start to look like matte just as what I show you in the video. Then, the next step is to prep the whole car and get it ready for paint.
Since we didn't paint the whole car here, we just did pieces of it. We did the trunk and the front bumper cover. We color matched it. It came out awesome.
Masking could be a day or half a day, maybe a couple of hours. As for this project, I masked it and shot it the same day. I let it dry after I washed it and masked it and shot it the next day.
Your last hurdle is laying the paint on. And then comes refinishing, which is color sanding and buffing the car, putting the car together, cleaning it up and making it look nice.
I show you the complete project in the video. It looks brand new again and came out really good. You can do professional show finishes in your own garage just like this.
You don't need a $10,000 spray booth to get professional results. A lot of people in YouTube show you how to spray in paint booths. You don't need that. As long as you have a box fan blowing out and you're spraying base coat clear coat and using good spray guns, you're not going to get overspray all over the place.
After all this is complete, then you do the color sanding and buffing if you want to.
The main point of this video is to set deadlines and overcome mountains in chunks. The body work stage, the prep the floor paint stage, the painting stage and then, the refinishing stage.
Of course, that depends on you. You can do it on a fast-paced basis. You can also do it like the 24-hour El Cheapo Paint Job that I have in the LearnAutoBodyAndPaint Course. It's an enamel single-stage paint job project that I have completed within 24 hours, all body work and paint.
I just want to give ideas and open your mind up a little on how you can plan out your auto body project. Remember that every project is unique though. You have to carefully think of your timeframe and schedules as they are unique as well.
It's Tony from LearnAutoBodyAndPaint. I hope you enjoyed the video. Please comment below and let me know if you liked it.
If you're not in VIP, you are totally missing out because there are so many hours of video training that can help you get started. I'll be adding more content to the VIP Program soon, so I highly urge you to secure your slot now.
Don't forget to grab your FREE 85-Page Auto Body And Paint Manual and start working on your car projects now. Please Like, Share and Subscribe to my videos.
Talk to you soon! Have a great day!
Tony
Other Helpful Links:
Learn Auto Body And Paint Live from Japan – Spray Gun Talk and Q&A
Custom Car Furniture Project – Learn Auto Body And Paint
Vinyl Pinstripe Application on New Truck – And Your Auto Body Questions Answered
A-Z Sandpaper Grit and Primer Steps To Repair a Panel + Auto Body Q&A TALK!