Did you enjoy this video? Check out the LABAP VIP course that will help you turn into an auto body and paint pro, from home like these sanding techniques!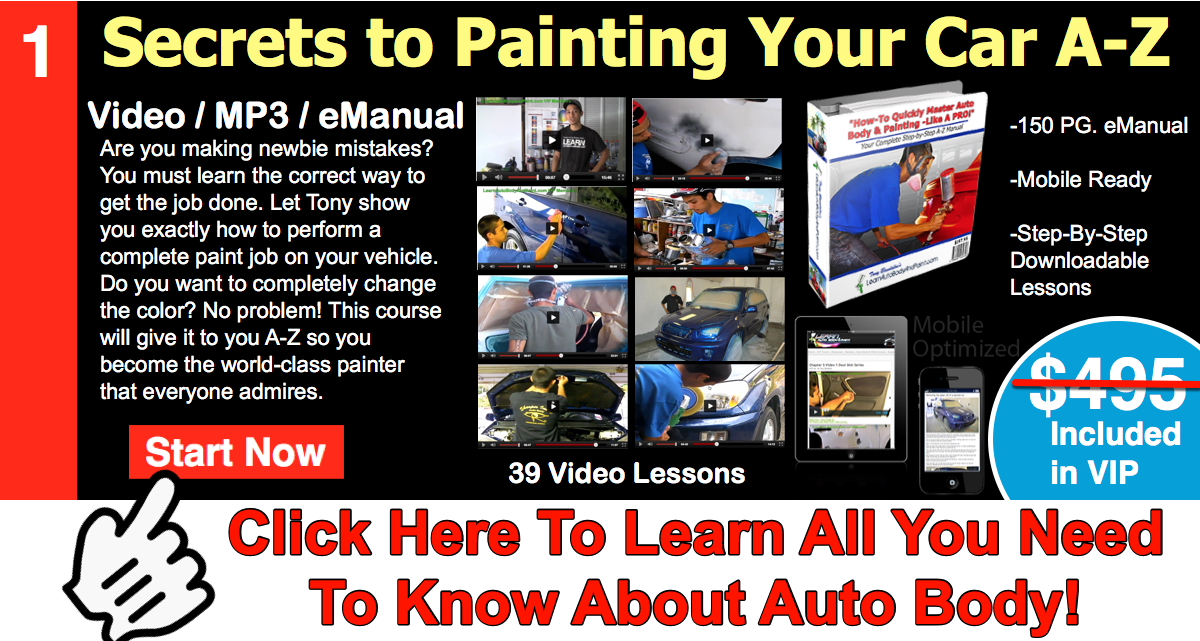 Hey, it's Tony. Thanks for watching the video and checking out the blog today. Now, let's talk about Wet Sanding & Dry Sanding Techniques When Prepping for Base Coat Painting.
I spent 13 hours on this car to get it primed up, finish all body work and ready for paint. We're now going to sand it all down with 400-grit, get all the minor imperfections with glaze putty. Then, reshoot those areas with primer. We are literally on the final stages with paint.
I made one mistake while I was priming it with my polyester putty.  It's super thick, which you can reduce with a reducer.  You can use a 1.9mm to a 2.2mm with it. I used a 1.9mm tip.
I used the Warwick 980HE Spray Gun and forgot to take out the filter. I was spraying with the filter, then after a few minutes, my fluid gradually decreased and it was drying.
Introducing the new Atom X Series Spray Guns. These are professional spray guns that will give you German and Japanese style, craftsmanship and performance for a fraction of the cost. With a no o-ring design and pure spraying simplicity at its finest. Head on over to Zoolaa and check these awesome spray guns.
It was wide open fan but the fluid coming out was just an inch. I only figured it out when I took out all the parts and started cleaning it because I thought it was just probably dirty. Then, I saw the filter.
Now, we're using the DA sander to help me cut all of our filler primer with a 320-grit. You can use anywhere from 320-grit to 360-grit. You don't want to cut too much and don't want to cut too fast either.
We're taking out all the sand scratches and orange peel to get it nice and flat. Once we're done with that, we're going to go over the entire car with 400-grit wet sanding and wash it down with circular motion.
I show you the complete videos within the LearnAutoBodyAndPaint VIP Course, check out the Toyota Rav4 Series or the Mazda Miata Project.
Now, we're doing our mirrors with 400-grit wet sanding. You can just sand over our clear coat and get it ready for paint. Then, we'll spray our gold base coat right over it.
Then, you can see we're finishing up our front bumper cover with 400-grit, smoothing it all out. It's best to use your hand when doing body panels like this one.
You won't be able to get it really nice with a block compared to doing it by hand because of the round edges. Once you're done, wash and spray it off.
If get it really glossy like what I show you on video, you know that your paint job is going to come out really nice.
The next part of the video is masking the car up.  However, you need to make sure that the car is washed, cleaned with the dust and water blown out. You can let it sit for a day and mask it up the following day.
Now, we're cleaning our gun before we start mixing up our paint. I'm showing you how to adjust the spray gun. Pull the trigger all the way down until it hits and tightens up. We want full fluid flow. If you limit your trigger flow, you're not going to get all the paint out. Check out the video how I demonstrate it.
In the video, I'm showing you my Warwick 980HE Spray Gun. This is available on our LearnAutoBodyAndPaint Shop Page. We have great Warwick spray guns on the shop. These guns are high quality yet very affordable.
I noticed a pin hole on this quarter panel. I'll show you what you could do to take it out quickly. I put a little bit of glaze putty, waited 20 minutes to let it dry. We'll go over it with 400-grit lightly and quickly. Then, wipe it off.
When wiping down your car, you just need to lightly tack it to get the dust off. Never push hard.
If you've watched the main course, you know by now that base coat mixture is 1:1. If you have eight ounces of raw base coat, you need to put eight ounces of reducer.
Then, we spray all of our areas that we want the color gold on.  We'll be doing the mirrors, some of the body panels and areas on the decals. I'll show you how to do a nice two-tone paint scheme on the vehicle.
I'm popping a couple of holes around the can so the excess paint goes back in. This is one of the tricks my father taught me and works really well.
Now, we're pouring it in. You can eyeball it. I call it the 1-2-3 rule. You can add a little bit more if it seems too thin. Watch how I do this trick in the video.
Now, we're filling our paint cup. We did our wax and grease remover on the car. Then, we'll tack it down and be ready for paint.
It's Tony from LearnAutoBodyAndPaint. Grab your FREE Auto Body And Paint Manual for more information on auto body work.
I hope you enjoyed this video. Please Like, Share and Subscribe to my channel. Cheers!
Tony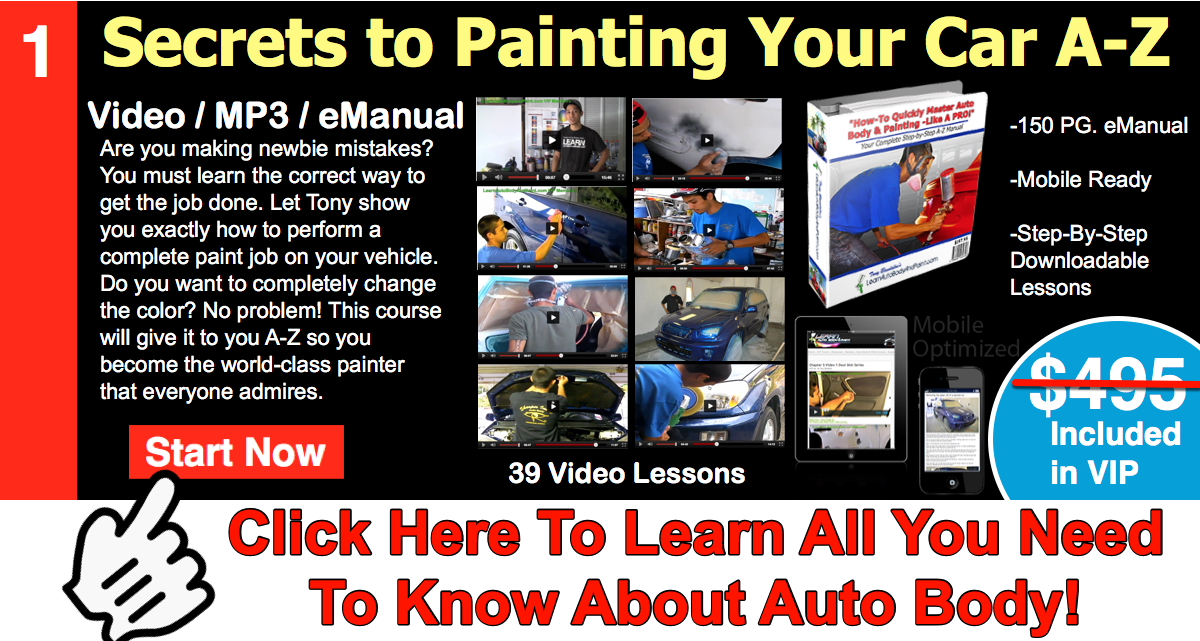 Other Helpful Links:
Headlight Restoration – The ONLY 2 Ways To Restore Your Headlights!
Detailing HACKS and Buffing Old Paint To Match New Paint!
Collision Repair: Learn How To Straighten Auto Body Panels
Learn How To Determine The Type Of Paint On Your Vehicle
The Importance of Wax and Grease Remover on Auto Undercoat and Top Coat