Did you enjoy this video? Check out the LABAP VIP Course that will help turn you into an auto body and paint pro, from home!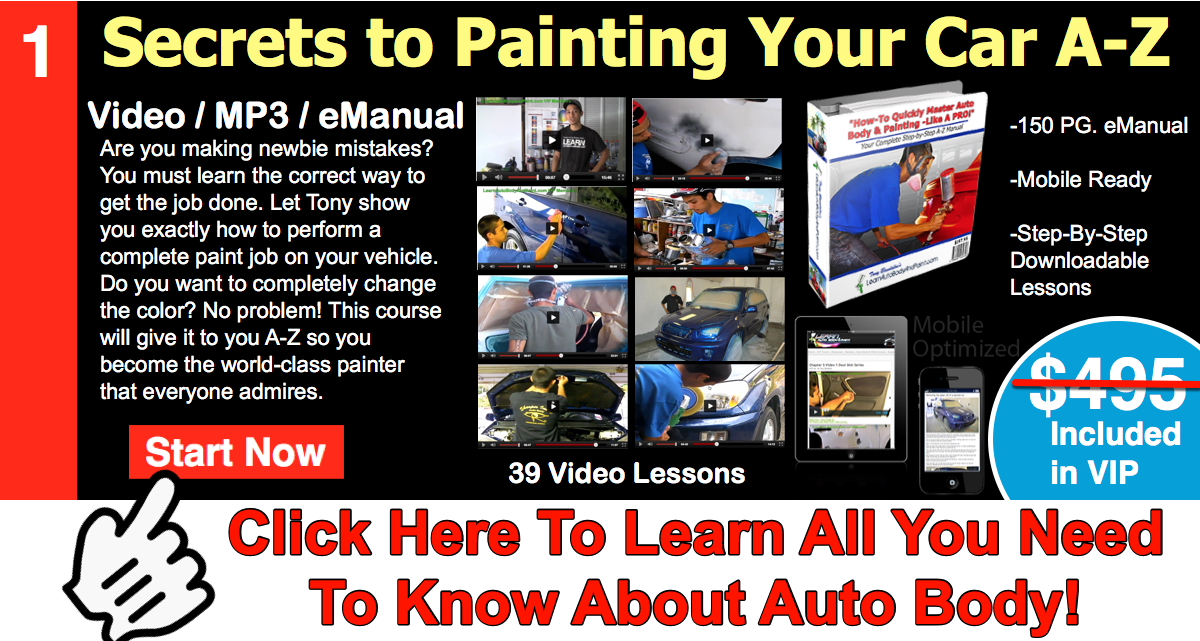 Hi, it's Tony with another live stream. Today's topic is Car ENHANCEMENT Tricks – Plasti-Dip Demo On BMW Front Grille!
I'll be doing my BMW grills and show you guys. We'll be doing black Plasti-dip on it. I got set up here in my garage.
The grills are cleaned up with wax and grease remover. I like to use Triple-O or Quadruple-O Brillo. See the difference in the two grills. The other one is a lot cleaner.
Steel wool works excellent. I also did these little trim pieces from my BMW. This goes into the side grill for the M edition. I figured to just do a Plasti-Dip to the grills to look good.
Question: Can you use WD40 with Brillo? Does it work well with aluminum?
If you want to, you can. But don't use it on aluminum as it will scratch it. Aluminum is a lot softer than chrome and make it hazy.
Make sure to rinse your parts with water after using Brillo on it, to get the filings from your steel wool off of the parts. It comes right off when you hit it with a hose and spray it.
Don't leave it wet and have it sit overnight otherwise you'll have surface rust on your paint.
I cleaned up the grill. I washed it and scuffed up the front, so we can go ahead and seal it up with Plasti-Dip.  The cool thing about Plasti-Dip is if you don't like it, you can just take it off.
It's really cold and 35 degrees in my garage. I don't know how this will come out. You should be doing this in a warmer weather.
Give it a couple of heavy coats. Check out the video as I do a demo on it. It will start to dry like a matte color and look really nice.
It's covering pretty well, so we'll go back and hit it with another coat. Now, we'll let leave it and let it set.
Question: What's the reason you use Plasti-Dip than regular paint?
Plasti-Dip gives you a nice flat look. Like I said, the cool thing about it is you can just peel it off when you don't like it.
Some people like to Plasti-Dip the entire car. But, I'm not really into the whole matte look on a car. Maybe a jeep would look good but I like glossy cars. That's just my preference.
Question: What kind of clear do you use?
Right now, I like House of Kolor paints. I use a lot of this brand. I did hook up with some companies in SEMA. They'll send me clear coats to test out. If I like them, we'll start selling them too. I would like to sell really high quality items at cheaper prices for you. I don't sell anything that I don't use personally.
Do you think I should paint the side piece black or keep it read? Give me some feedback, guys! J
A lot of you wants to keep it red, so let's leave it at that. It looks sharper that way and won't look stupid like my mirrors in my Miata! LOL!
I was also thinking of tinting these tail lights black. We just need to mix a little bit of black base coat in your clear coat. You can tint your lenses with those.
You can make tint out of clear coat by putting a color of base coat in it. Make sure that it's just a couple of ounces of base coat and not a lot. If you're making a quart of clear, put no more than two ounces.
Here's my lift. I picked this up last year and paid around $2900 with $600 shipping. It's 6000 pounds with single hydraulic. Check out the heavy duty chain.
As you can see in my video, it has all the adjustments. Check out how I demo the lift.
Question: What spray guns do you recommend?
I personally use the Atom X Series Spray Guns. Check out Zoolaa as we're the sole distributor for these awesome spray guns. They are a professional spray guns that will give you German and Japanese style, craftsmanship and performance for a fraction of the cost.
I hope you guys enjoyed today's show. Thank you everyone for jumping in. Join me every Thursday at 9pm Eastern. Let's talk auto body!
Don't forget to grab my FREE 85-Page Auto Body And Paint Manual if you haven't. Learn more about DIY auto body work. If you want the a complete step-by-step training program, check out the LearnAutoBodyAndPaint VIP Course.
I have so much information within VIP. Check out some of my complete projects within the course and apply those strategies in your own projects.
It's Tony from LearnAutoBodyAndPaint. Please Like, Share and Subscribe to my videos. See you next week!
Cheers!
Tony
Other Helpful Links:
To Learn More About DIY Auto Body Work Strategies, Check Out VIP Now! 
How To Paint Your Car Like A Pro Even If You're A Newbie
2000 BMW Z3 M Roadster Bumper Cover and Hood Paint Talk Plus Q&A
Headlight Restoration – The ONLY 2 Ways To Restore Your Headlights!
How To Color-Sand and Buff Clear Coat To Get PRO Mirror Finishes!
NEVER Tack Between Clear Coats! Mixing & Spraying Automotive Clear Coat