Did you enjoy this video? Check out the LABAP VIP course that will help you turn into an auto body and paint pro, from home!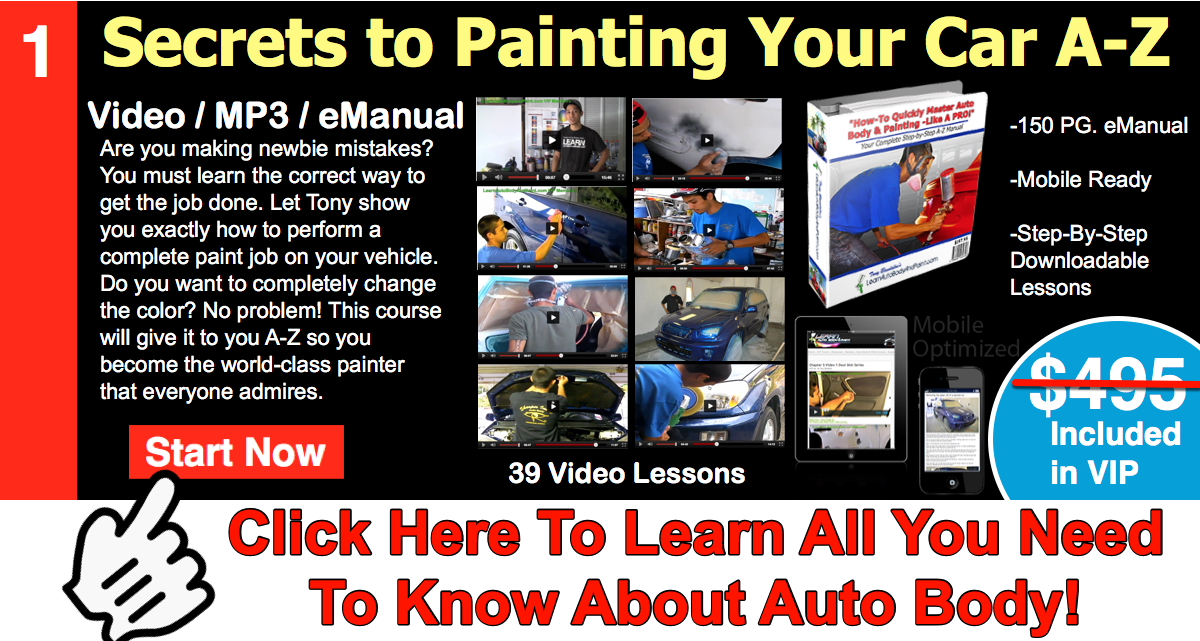 Hey, it's Tony with another live stream. Today's topic is How To Paint a Truck in Your Garage Like a BOSS!
Thank you all for coming. I'm going to announce the two winners of the Atom Mini X16 Spray Gun which I picked out from those who joined VIP from the last sale that we had.
Everything is washed down and ready to paint. It was very difficult to sand this panel. Check out the video.
When you're sanding 2K primer, it's very important to take out the orange peel and sand it flat. That means, you get the block and sand it to where it looks like a matte finish and you don't see any orange peel look. That's when you know that it's going to come out like glass when you lay out your fresh paint.
If you don't sand it flat and you paint it, you're sure to have orange peel because it's just going to come out through your base coat clear coat.
Watch the video and learn more of my techniques as I show you the progress on my Daihatsu Mini Truck Project.
Like I said in the past, this Mini Truck is going to be three-tone. We'll hit all the door jambs with white as well as the top of the truck. We'll create the graphic line with white where we'll separate the teal. The bottom of the truck will be silver and lastly do the teal in the middle. It's going to look awesome.
For a complete car paint job with single-stage enamel, it usually takes 45 minutes. This will just be the outside.
On the other hand, it takes longer to do a base coat clear coat because you'll be going around the car twice for base coat as well as clear coat. At times, it will be longer for clear coat when you have coverage issues. That will be two hours max for base coat clear coat.
If you're doing graphics and masking in between, especially with flames, it sometimes takes 4-5 hours. You can be painting all day if you're doing graphics, especially if you're doing multiple colors.
However, in this case, it's just a small truck with three colors with solid lines, it would probably take me no more than six hours for a complete paint job. The painting itself is just two hours and the rest will be spent on masking and doing the lines.
I hope you get some ideas on your own car project. I'll be uploading this in the LearnAutoBodyAndPaint VIP Course, so for the non-VIPs, go check out the program.
Let's announce the winners of the Atom Mini X16 Spray Gun. Congratulations to Elzaki Shamseldin from Virginia and Bradley Cronn from Arizona. Again, congratulations to the both of you!
Question: What's the best way to paint ATV plastics and wheels? [22:43]
You can use either a 25 primer or base coat clear coat. However, I would use a flex agent in your paint. I have painted those without flex agent and they last about 3 ½ years before cracking. They will crack. Also, use an adhesion promoter before you use your primer.
If you want it to be more durable, perhaps use a plasti-dip. You can get a flat look with plasti-dip which looks pretty cool.
Question: Is it better to use the plastic or paper when masking? [23:40]
It doesn't matter. You will not get overspray over paper, so whichever you prefer because both works. I am using paper. If it's a big section where you need to cover a piece of plastic on a car, then use plastic.
I think paper is easier to work with because it's harder than plastic. The plastic is good for larger areas.
Thanks everyone for joining me today. Don't forget to grab your FREE 85-Page Auto Body And Paint Manual for more information on DIY auto body work.
Please Like, Share and Subscribe to my videos.
Talk soon! Cheers!
Tony
Other Helpful Links:
DIY Auto Body Work on Micro Truck – 3 Auto Body Secrets Revealed!
Easy DIY – Installing Window Vent Visors on Your Car or Truck
Vinyl Pinstripe Application on New Truck – And Your Auto Body Questions Answered
Daihatsu Hijet Mini Truck Project and DIY Auto Body And Paint Q&A!