Did you enjoy the video? Check out the LABAP VIP course that will help turn you into an auto body and paint pro, from home!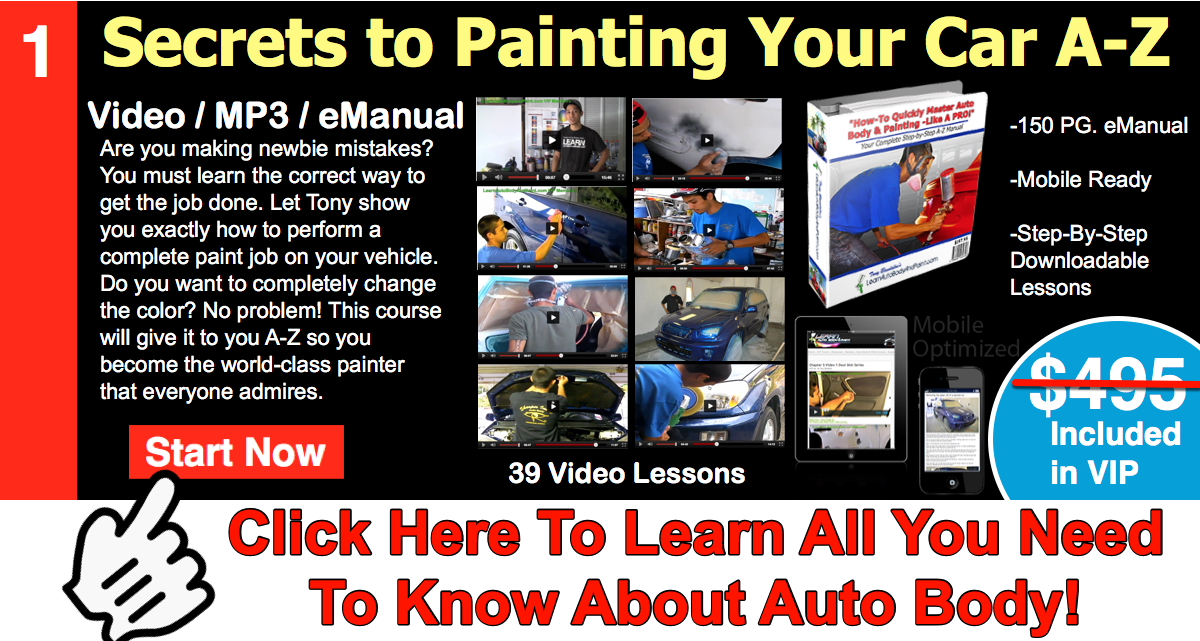 Hey, it's Tony with another live stream. Today's topic is Harley Motorcycle Tank Project Plan + Q&A April 5th 9PM CST.
I got this motorcycle tank off of eBay a while ago. This is a Harley Fat Boy tank with some dents. I painted it a Lamborghini Yellow with Gold Pearl.
The quality of the video will be better once I upload it in HD for everyone. Sorry about that.
This is a good foundational color. It is all about sanding the clear coat with 600-800 grit sandpaper. We're not going all the way down to the base. We'll just scuff out the clear coat.
After which, we'll start mapping out our graphics with the 3M fine line tape. They come in a variety of sizes. The most popular are 1/8, which are really good for flames, and a quarter inch tapes which are more for straight and less turns. These are flexible tapes and the edges are very clean.
Basically, we are going to be masking up what we want to keep yellow, because we will be spraying layers of base on this. Unless, I want more metallic in here.
If I want more metallic in here, I will flow coat it with more metal flake. Or, at the very end of your project where you have other colors like purple and black, you can put metal flake over certain areas, or everything.
I have a fire mist purple that I will be using for this project as well as a regular jet black base coat. I have silver and green, which I won't use much. The colors I will be using mostly are yellow, black, purple and silver. Those are the four colors that I will be using for the graphics. It will be awesome.
Let me start playing around with some drawings using my Expo Whiteboard Markers. Check out the video.
I strongly recommend is to start playing around and let your imagination run! It is pretty fun to do.
Someone wants to see the Atom X21 Spray Gun. We have two versions. We have the flat black model and the Chrome version.
However, we will be stocking the flat black version with silver knobs and highlighted purple air cap. If you want to grab your own Atom Spray Gun, head on over to Zoolaa now.
It's Tony from LearnAutoBodyAndPaint. For those of you who want to start working on your own custom projects, grab your FREE 85-Page Auto Body And Paint Manual.
To get complete step-by-step access to my projects, check out the LearnAutoBodyAndPaint VIP Program and secure your slot now.
Thanks everyone for joining me today. Hey SMASH the Like everyone. Please Share and Subscribe to my video.
Talk soon! Cheers!
Tony
Other Helpful Links:
How To Paint a Car or Motorcycle Part 1
Vinyl Pinstripe Application on New Truck – And Your Auto Body Questions Answered
How To Paint A Motorcycle or Car Step By Step A-Z
You CAN Paint Your Car At Home – DIY Auto Body Mastery With Tony Bandalos
How To Paint Any Bike, Scooter or Moped Step-by-Step and Get PRO Results