Did you enjoy this video? Check out the LABAP VIP course that will help you turn into an auto body and paint pro, from home!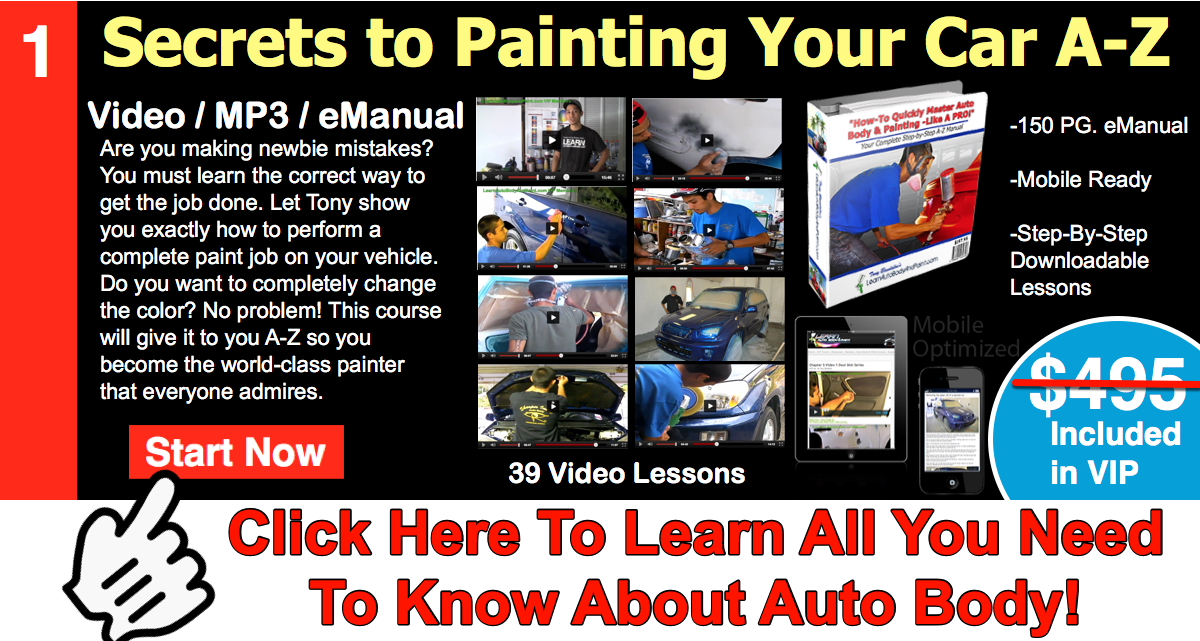 Hey, it's Tony from LearnAutoBodyAndPaint. This is the ATOM X20 High Performance Spray Gun Review.
Look how glossy and shiny this is. It's a very beautiful gun and feels really good in your hand. Check out the video as I show you the Atom X20 Spray Gun.
I like how these guns have the two-tone knobs with the grip. It has an expensive, high quality feel. Take a look at the tip and the air cap's quality.
This is a 1.4mm tip size. The tip kits of these Atom Spray Guns are very affordable. You won't be spending $180 on a tip kit like you would on a Sata or Iwata.
When you purchase an Atom X20, you'll also get the 1000ml aluminum cup, the wrench, a quarter-inch male inlet and comes with a filter for your cup.
If you're spraying any type of metal flake, mini flake or heavy metal flake, you need to make sure to get the upgraded 1.8mm tip kit which will allow you to spray the metallic. Then, make sure you take off your filter. Otherwise, you'll clog up your spray gun.
But, if you're doing any overall metallic base coat or single spraying, you don't have to worry about it. You can keep the filter in. Regular metallic will flow through it without any problems.
For overall basecoat clear coat spraying, use a 1.3mm or 1.4mm tip size. We stock both sizes. For any types of flakes, get the 1.8mm tip kit.
You'll also get the air regulator with your spray gun. I like to put a water filter for extra insurance. Then, put my air inlet.
If you're looking for a high quality spray gun with an affordable price tag, head on over to Zoolaa and check out the Atom X Series Spray Guns.
Let's compare it with the De Vilbiss Finish Line Spray Gun. The Atom looks a lot better than a De Vilbiss. Notice that the spray looks really weird with the head coming out. You have to tilt your hand a little more than you need to with this De Vilbiss.
On the other hand, the angle and pitch looks better when spraying with the Atom. It feels comfortable holding this spray gun.
I used to promote the Warwick Spray Guns. But, when this was introduced to me in SEMA, I got blown away. I now spray with these fantastic Atom X Series Spray Guns.
It's Tony from LearnAutoBodyAndPaint. I hope you liked this review on the Atom X20 Spray Gun.
Have a great day! Talk soon! Cheers!
Tony
Other Helpful Links:
ATOM Mini X16 High Performance Spray Gun Review
DIY Auto Body & Paint Shop Update & LIVE Q&A
New Auto Body Paper Machine! $59 BUCKS! – Auto Body Updates