Did you enjoy this video? Check out the LABAP VIP course that will help you turn into an auto body and paint pro, from home!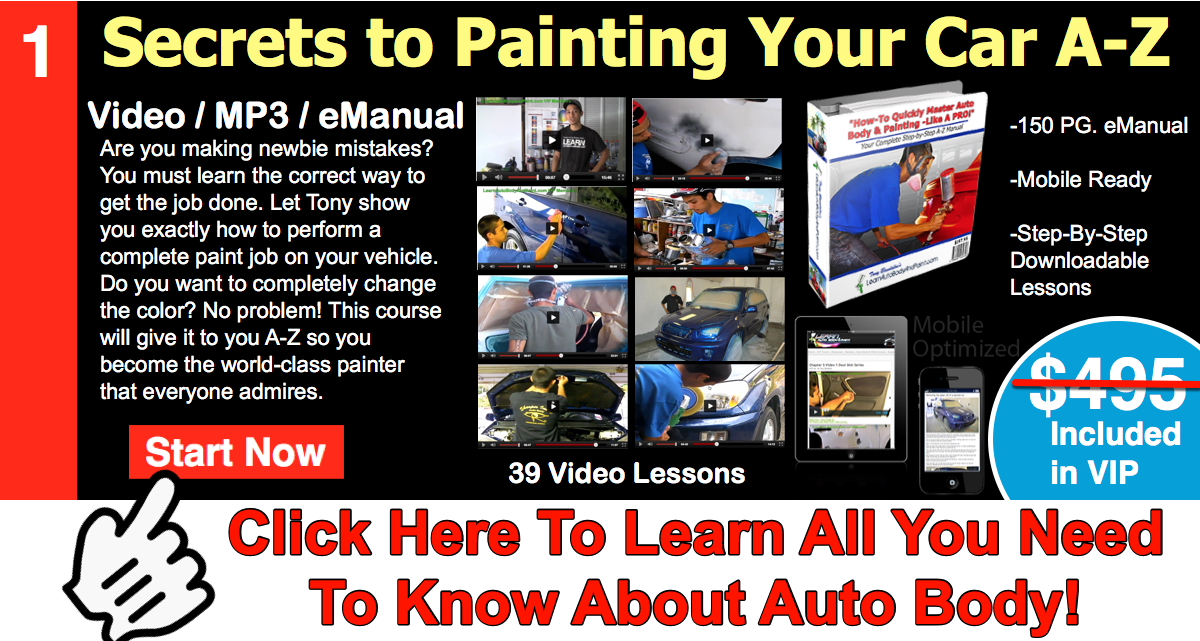 Hey, it's Tony with another live stream. Today, we're going to announce the Warwick 904HE Spray Gun Winner and then we'll have Auto Body Questions and Answers.
Congratulations, Logan! I see him here with us. Logan, I just emailed you five minutes ago. You are the winner of the Warwick 904HE Spray Gun!
I'm doing a tour promoting my new book across America. I've been guesting in morning shows so that's keeping me busy for a few months. I was hit in the highway and I have a big rock chip on my newly painted hood.
My auto body store is still launching. I'm currently stocking the warehouse that's why it's taking a little bit of time. But, within the next 4-6 weeks, the auto body store will open up.
And now, we introduce to you the Atom X Series Spray Guns. These high quality, yet affordably priced spray guns are now sold on Zoolaa. Nominated BEST DIY AFFORDABLE SPRAY GUN of 2017-2018.
Check out the Atom Spray Gun Review below:
I have a good spray on wax that I've been using. It's Wizards Mystic Spray Wax. This is not a paid endorsement but, I like this product. I've always been a fan of spray on waxes. You just shake it up, spray it and wipe it on. You have no caking of wax all over your moldings, in-between cracks or weather stripping. It smells good too. The car comes out fantastic.
Question: How much paint do I need for a Subaru WRX? [8:58]
I would say, you'd be good at about 3 quarts of base coat. That will turn to about a gallon and a half of sprayable material. Base coat is reduced 1:1, which means for every quart of base coat, you're going to reduce to 1 quart.
You'll probably use 4-5 quarts of paint of the same color. If you're painting with a totally different color, you would probably just need a gallon so you'll have extra for touch-ups.
Question: I have an 11-year old car paint which is okay with no peeling. Can I scuff and shoot? [10:04]
Yes, you can scuff and shoot it. No big deal. You don't have to seal that.
Check out the video as I show you my LearnAutoBodyAndPaint VIP Shirt. J
Question: How can I make a homemade stud puller with my MIG? [11:34]
It's up to you. You can probably weld pins on and pull it out. You'll need a puller, if you get the style that I have where it clamps on to the pins or the old style where you'll need to screw and drill a hole in the body.
I never liked these old style ones. I think you'll just ruin up the body. Why don't you just invest in a stud gun? They are worth it. Tools are very important in body work. These tools help you do the work correctly and perfectly. They make our jobs easier, so I recommend that you invest in the right tools.
Question: Can I 2K clear over rattle can paint? [13:45]
I think you can, if the rattle can paint is cured for a couple of days. I think if you shoot it right over it, you may have a chemical reaction. Rattle can paint has no hardener in it. It's like a base coat with lacquer in it. It's a really crappy paint.
Question: I want to do a purple pearl on a '74 Beetle. Do you have any suggestions? [17:23]
If you do it over black base, you're going to have a dramatic dark purple. If you do it on white, you'll have a white car with a purple hue. You can also go with a purple base coat and put a different tone of purple in it.
It's Tony from LearnAutoBodyAndPaint. Thank you everyone for joining me today. Grab your FREE 85-Page Auto Body And Paint Manual.
If you want access to my complete videos on my projects, check out LearnAutoBodyPaint VIP Program. I show you all the step-by-step techniques on auto body work.
Please Like, Share and Subscribe to my videos. Keep cranking guys!
Talk soon! Cheers!
Tony
A VIP because WE can customize and paint our projects ourself and not have to spend thousands to have others do it.
-Tony Bandalos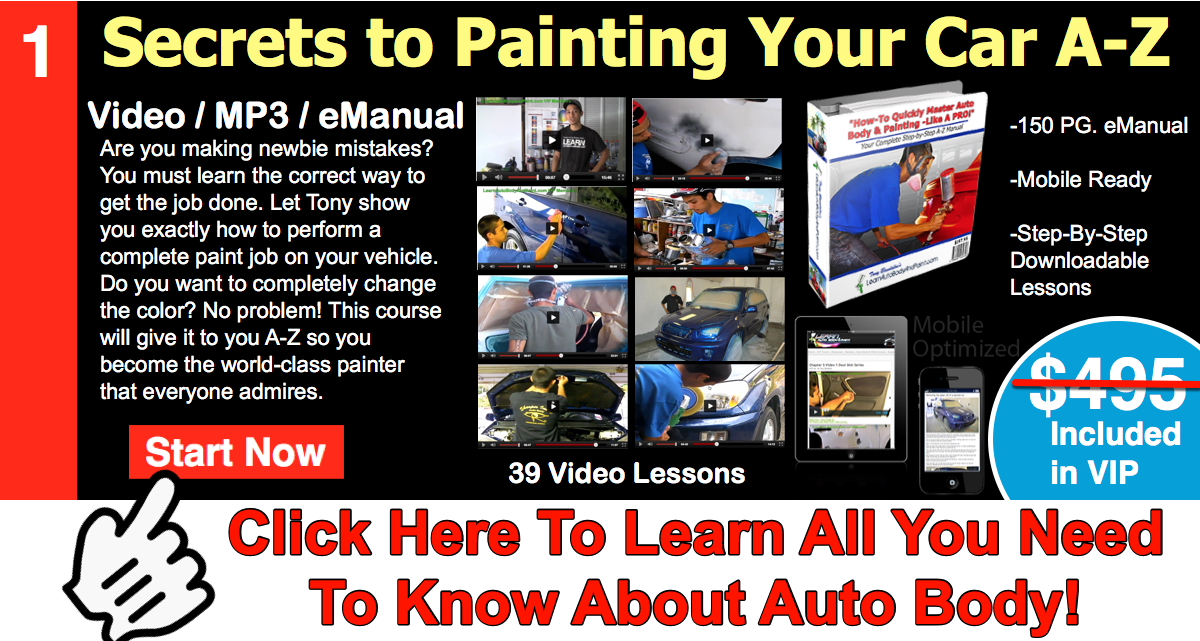 Other Helpful Links:
A-Z Sandpaper Grit and Primer Steps To Repair a Panel + Auto Body Q&A TALK!
HVLP Warwick Spray Gun Review – 904HE and 878SHE
DIY Auto Body And Paint Questions and Answers Replay!
Live DIY Auto Body & Paint Talk (your questions answered) with Tony Bandalos
Car ENHANCEMENT Tricks – Plasti-Dip Demo On BMW Front Grille!