Did you enjoy this video? Check out the LABAP VIP course that will help you turn into an auto body and paint pro, from home!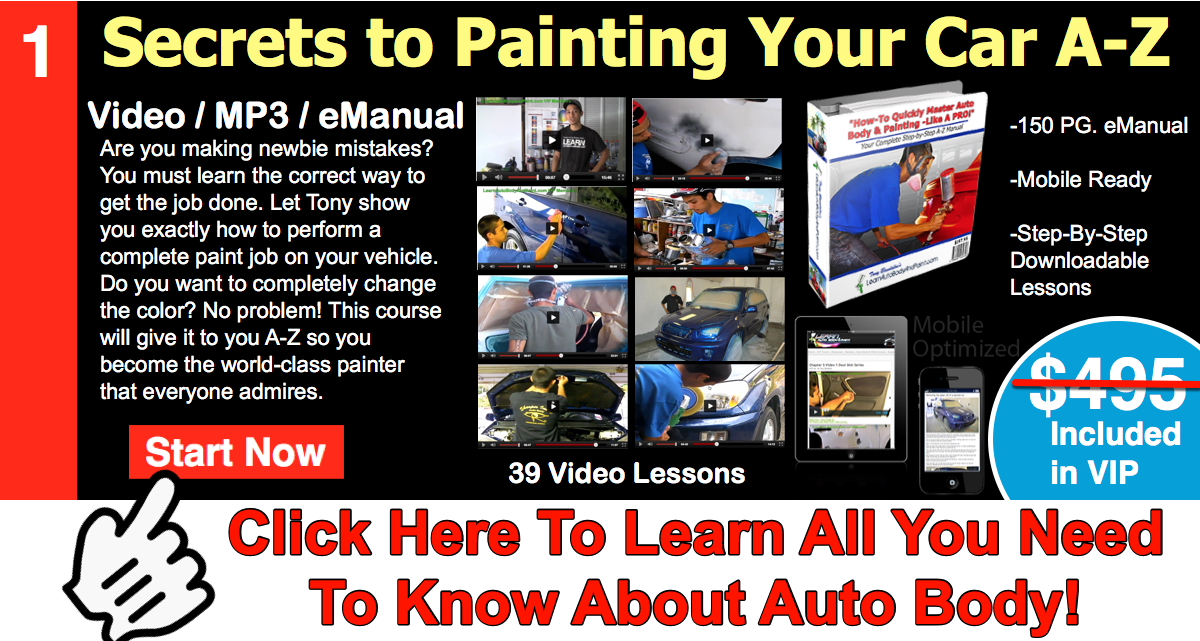 Hey, it's Tony from LearnAutoBodyAndPaint. This is the ATOM X21 Solvent Waterborne High Performance Spray Gun Review.
Let's bring it out of the box. Look at this awesome spray gun and see how glossy it is. It's truly a work of art.
This is the Atom X21 Professional Spray Gun. It has a beautiful green cap with silver knobs. This is a solvent and waterborne spray gun, which means that the internals are coated with stainless steel to avoid corrosion. You can spray any kind of paint out of it.
It has a 1.3mm and 1.4mm tip sizes which are good for base coat, clear coat and any kind of enamels. You can also shoot primers with this tip size, but only if you thin them out.
It is also available in a 1.8mm tip size which can spray any kind of metal flake or regular mini flake. It also has the ability to put a PPS adapter if you want to put disposable cups on top.
Your Atom X21 Spray Gun comes with a 1000ml aluminum cup and pro air regulator. The bag contains a wrench, cleaning brush, neck filter, quarter-inch male inlet and three little gaskets for a rebuild.
I like to set it up by fully cleaning it up and putting your neck filter. This cup has a gasket so you don't have to put any plumber's tape on your threads.
Another good thing about these Atom X Series Spray Guns is that they are no o-ring designs. The seals in spray guns wear out over time when you clean them out with solvent, so you need to rebuild the o-rings when that happens. However, that won't happen with the Atom.
I was introduced to the Atom X Series Spray Guns at the SEMA convention and it just blew me away. These spray guns are beautifully-made. They are designed in Texas and very comparable with a Sata.
It's Tony with LearnAutoBodyAndPaint. I hope you like this short review of the Atom X21 Spray Gun. If you want to grab this fantastic spray gun, head on over to Zoolaa.
Talk soon! Cheers!
Tony
Other Helpful Links:
ATOM X20 High Performance Spray Gun Review
DIY Auto Body Work on Micro Truck – 3 Auto Body Secrets Revealed!
Atom X21 High Performance Automotive Spray Gun Setup
How Long Should a Auto Body Paint Job Take You?