I hope you enjoyed the video! Secure your LearnAutoBodyAndPaint VIP slot now and be part of the #BossPainter community!
Tony B. Richie is back with another auto body Q&A session! Today's highlight is Cleaning A Spray Gun: Parts You Should NOT Remove.
Warning (primarily for all the newbie painters)!!!
Don't take your gun apart… more than you should!
Watch the video as Tony shows you which parts should only be taken apart! 👆👆👆
Parts you can take off:
Air Cap – Take it out and make sure that you clean it well after painting. You can use a lacquer thinner and a brush.
Needle – For older spray guns, you can use a steel wool brillo to smoothen your needle out.
Fluid Tip
Don't take off your pressure setting and where your air inlet goes because these are factory-sealed and should not be taken out!!! ☠️☠️☠️☠️☠️
For awesome spray guns that will help you get pro finishes on your own custom car projects, head on over to Zoolaa and grab your Atom Spray Guns. For every Atom Spray Gun purchase, you get the GunBudd Ultra Lighting System for FREE.
Let's proceed with our Q&A:
Question: I got a friend that wants me to paint over his exterior chrome-plated trim. How would you tackle that? Remove the chrome or just paint over it?
You can scuff that chrome with 80-grit. Then, put a light coat of adhesion promoter and mix up some 2K filler primer. Lastly, you'll need to sand it down with 400-grit and you're good to go.
Question: Is wet sanding necessary before getting the car prep before base coat or can I dry-sand the car?
It is not necessary and you can finish it off with dry-sanding. That's definitely your choice. You just need to make sure that you blow or dust it off before paint. On the other hand, I prefer wet sanding because it washes everything off. Plus, I feel that I get a cleaner cut at the finish.
Thanks everyone for joining me today. Don't forget to hit that 👍 button, share and subscribe to my channel! If you want to started with auto body and paint, grab your FREE 85-Page Auto Body And Paint Manual now! 🔻🔻🔻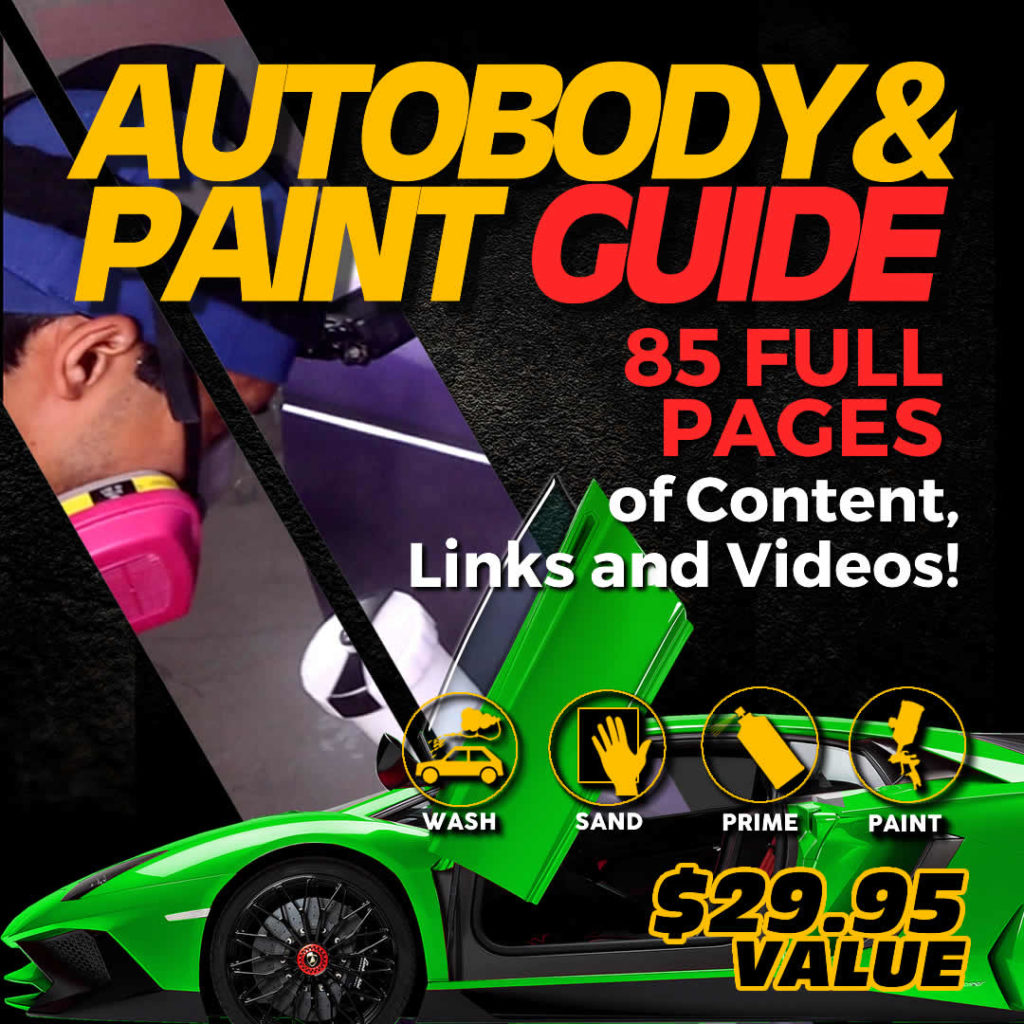 For a complete step-by-step training guide and access to a thriving VIP Facebook community, check out the LearnAutoBodyAndPaint VIP Program. Be part of the #BossPainter community now!
Are you hungry for more awesome blog content just like this one entitled, "Cleaning A Spray Gun: Parts You Should NOT Remove"? Click other resources below! 👇👇👇
Other Helpful Links:
Setting Up Your Spray Gun and Fan Settings: Auto Body Q&A 👍
How To Select A Spray Gun Tip Size For Car Painting : Auto Body Q&A 🤔
👉 PSI Settings For Spraying Cars – HVLP and LVLP Spray Gun Settings
🚘 Best Mobile Headlight Restoration Spray Gun and Compressor