Did you enjoy the video? Check out the LABAP VIP course that will help turn you into an auto body and paint pro, from home!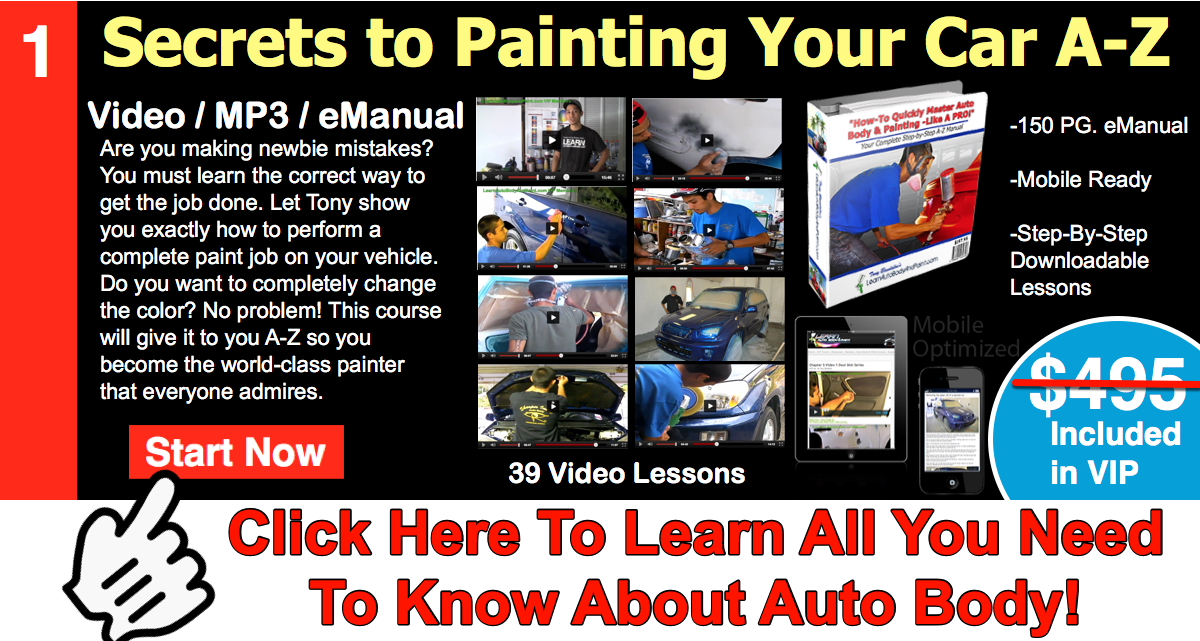 Hey, it's Tony from LearnAutoBodyAndPaint. Today's topic is entitled DIY Auto Body Live Q&A Plus Updates! 8:30 PM CST.
I finished buffing all the cars. Check out the video as I show you all the cars that I have completely buffed out. You can see how glossy it is now. It's like glass.
I just finished a shoot with my model. Unfortunately, it was raining and couldn't do it outside. We couldn't cancel the shoot since she was leaving the next day and won't be back for another couple of weeks, so I had to squeeze her in. It would have been a lot better outside, but I think the shots came out okay.
When it gets warmer, I'll be masking the Daihatsu Mini Truck, which won't take me an hour since it is all straight line. It will probably take me about 45 minutes to do it.
Let's go ahead with some Q&A.
Question: When doing a spot repair, can you blend clear so you don't have to redo the whole panel? [11:28]
Yes, you can. I talk about that in the LearnAutoBodyAndPaint VIP Course so I strongly suggest to check out the VIP Program to get access to a comprehensive course on auto body work and paint. I know you will absolutely love all the information you will get in VIP, which will be very beneficial when you're doing your own custom projects.
You need to use 1500-grit on the whole panel. And then, melt the clear with about 75% reducer. If you want to blend, I would blend where it is not that visible. Although, it would be better off just clearing the whole panel, so you don't have to worry about the blend.
Watch the video as I explain it further.
What is the best way to get the proper gaps between body panels? [14:09]
It depends on where you're working on, however, the best way is to bend and tweak. You need to bend panels, maybe shim panels or push them. That's the way to do it.
Can you use disposable cups on that gun on the Atom Spray Guns? [16:58]
Yes, you can. We have the adapters listed on Zoolaa. Right now, we have an ongoing promotion which is Buy any Atom Spray Guns and get a FREE Tip Kit. The promotion ends on February 28, so hurry and take advantage of it before it ends.
What most important thing when masking a car off? Any tips? [18:52]
Never use a cheap tape. Spend the extra money and get an American Tape. It's the only tape that I use. 3M also has some good yellow ones, but my favorite is the American Tape.
Does Atom make a low volume low-pressure air cap? [30:01]
Yes, they do. We have them on Zoolaa and we have new air cap sets for all of the Atom Spray Guns. I strongly advise to check the store now. These Atom Spray Guns are absolutely awesome at a fraction of the cost of the popular brands. I use them for all of my projects now.
It's Tony from LearnAutoBodyAndPaint. For all those who are new to DIY auto body work, grab your FREE 85-Page Auto Body And Paint Manual now and get cranking on your own projects.
I will be starting doing live shows at The Pub. It's a newly launched FREE forum community of automotive enthusiasts. You can post and share your own projects, get ideas and connect with like-minded individuals.
The plan is to do live shows and give out freebies during the live shows such as Atom Tip Kits or the X Finishes Pearls and Flakes, so I'm really super excited about it. Now go sign up, if you still haven't.
Before I go, please don't forget to SMASH that Like Button! 🙂 Share and Subscribe to my videos. Thanks everyone for joining me today.
Talk soon! Cheers!
Tony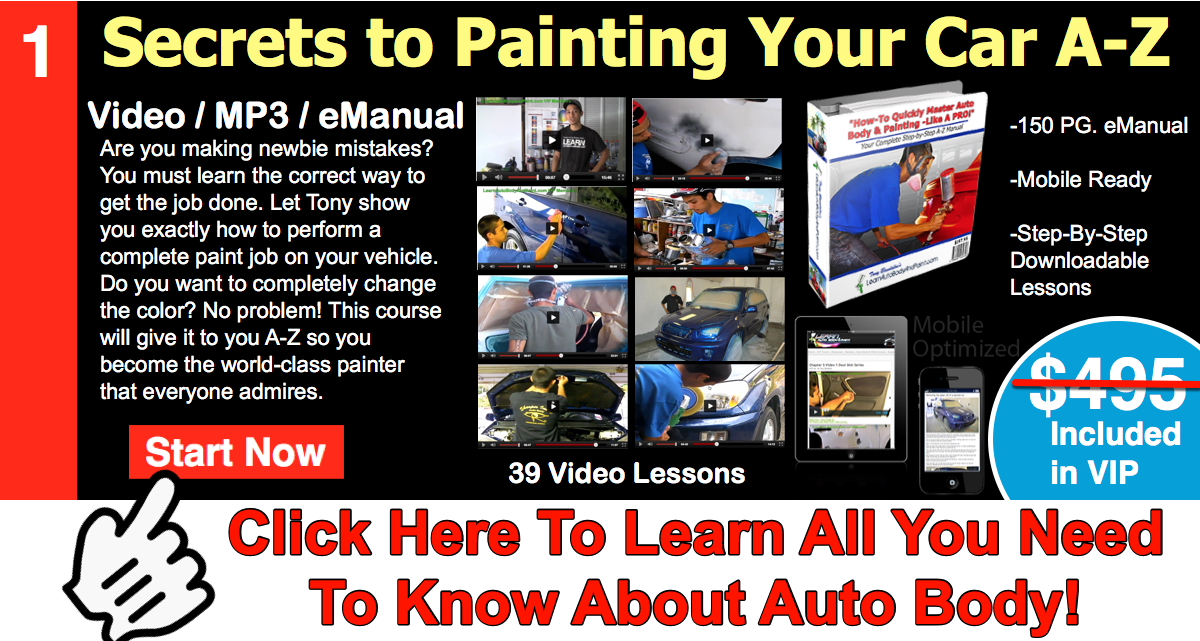 Other Helpful Links:
DIY Learn Auto Body And Paint Questions and Answers Live!
Block-Sanding Body Filler and DIY Auto Body Talk (Sanding Body Filler on Plastic Bumper)
DIY Auto Body Work on Micro Truck – 3 Auto Body Secrets Revealed!
You CAN Paint Your Car At Home – DIY Auto Body Mastery With Tony Bandalos
Easy DIY – Installing Window Vent Visors on Your Car or Truck