Did you enjoy this video? Check out the LABAP VIP course that will help you turn into an auto body and paint pro, from home!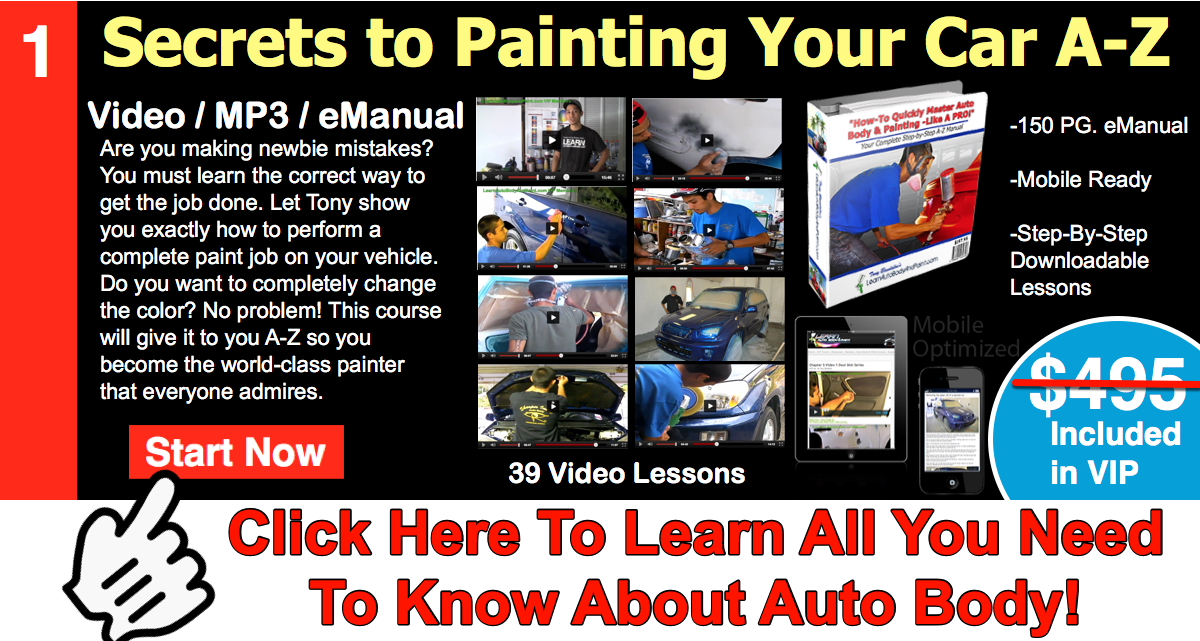 Hey, it's Tony. Thank you for joining me in today's live show. Today's topic is Block-Sanding Body Filler and DIY Auto Body Talk (Sanding Body Filler on Plastic Bumper).
I'm sure everyone heard about Hurricane Harvey and how it affected Texas. Let's take a moment of silence for all the people affected in Houston and South Dallas.
I'm going to put some hardcore work on this Mini Truck. We'll be doing some block sanding on this bumper cover later so you can all see how I do it.
Question: How long after you clear coat, can you color sand and buff? [5:35]
It depends on the clear coat that you have. There are speed clears where you can color sand and buff five to six hours later.
However, most of the clears can be color sanded and buffed after 12 or 24 hours. The longer you wait, the better.
If you're doing customer jobs and need to get them out, you can color sand it the next morning. But, don't seal it with a wax because the paint still needs to breathe. I would just buff it out and inform the customer about it. Otherwise, you'll have issues with the finish and create solvent pop.
Question: What's the ranges of sand paper for bumper before painting? [6:28]
It all depends on what you're doing? On this bumper, I'm using 80-grit for bondo. Then, cut down to probably a 320-grit to get it nice and smooth. I would probably use a 320-grit for the rest of the bumper and then, block sand it with 400-grit.
Question: I have rusty chassis. I guess, I need to learn mig welding. What do you think? [6:57]
Good luck! Grind it all out and you can probably even spot weld. But, if you want to get into mig welding, go ahead and learn it.
Question: How many coats of primer is enough? [7:27]
It's when you are able to fill all of your scratches. It's usually 2-3 heavy coats.
Hey, check out Rocky boy and Sandy, our adorable sibling Beagles! Of course, we also have Mayah tonight!
Question: What water sanding? Is there something added to the water? [8:01]
No, it's just water. Some people add a touch of soap in it so their sanding pads don't get kicked up, but I never had any issues with it. Although, you can put a touch of dish soap in it, if you want to. This will prevent caking on your 400-grit or 600-grit sand paper.
Question: Can primer fill 80-grit scratches? [8:37]
Absolutely. It can even fill 40-grit scratches, but I don't like to do that. You can use a feather fill, heavy duty thick primer.
I like to go 80-grit for all-around block sanding. Then, cut it down to at least a 220-grit to 320-grit to get it nice and smooth (but not too smooth). Lastly, put 2-3 coats of 2K primer on top of that, which fills all of the scratches. Finally, sand and feather it out.
I had a question once asking what feathering is. It's when you sand and feathers your primer ridge or when your primer ends feather into the body panel. You don't have a line where you can peel with your fingernail. It looks like a bird's feather because you can see it fill the sand scratches.
Let's go ahead, hit the bumper and do block sanding really quickly. Check out the video as I do a demo for you guys!
For all of you who want to learn more DIY auto body work, grab your FREE 85-Page Auto Body And Paint Manual and get started with your own custom projects.
For a comprehensive, step-by-step information on auto body work and paint, check out the LearnAutoBodyAndPaint VIP Course. You'll get access to over 72 hours of training videos, e-reads and bonuses. You'll also have exclusive access to our thriving Facebook VIP community where you can interact with other VIPs from different parts of the world!
It's Tony from LearnAutoBodyAndPaint. I hope you liked today's live show. Join me every Thursday at 9pm ET and let's do a lot of Q&A on auto body! Please Like, Share and Subscribe to my videos!
Talk soon! Cheers!
Tony
Other Helpful Links:
How To Block Sand Primer Flat – Automotive Block Sanding Tips
Wet Sand & Dry Sanding Techniques When Prepping for Base Coat Painting
Final Sanding HACKS – 2K Prime, Glaze Putty, Dry/Wet Sand, Clean and Prep for Paint!
How To Correctly Do Auto Sanding On Bodywork Repairs