Did you enjoy the video? Check out the LABAP VIP course that will help turn you into an auto body and paint pro, from home!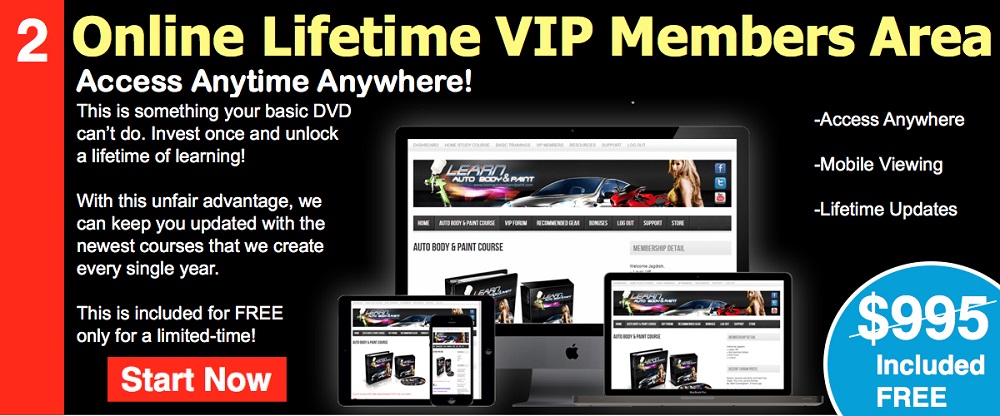 Hi, it's Tony from LearnAutoBodyAndPaint. Today's blog is entitled Masking & Spraying BASECOAT on Custom Tri-Tone Paint Job.
We are doing a Tri-Tone Paint job and using a fine line tape to mask our center piece. The top section is painted with white base coat with pearl mid coat on top of it, an intercoat called the DBC 500.
Then, we are also using a painter's tape which doesn't have a strong adhesive, so it is really good for masking.
You need to make sure your base coat is dry. Give it at least 40 minutes to an hour before you start masking up your car.
The fine line tape's popular sizes are 1/8 and quarter inch sizes. In this video, I'm using the 1/8 size, which is perfect for graphics and flames.
We're also going to mix our teal base coat. It's a 1:1 mixture. Most basecoats are the same mixture. And, I'm also using a medium reducer.
Also in this project. I'm using the Atom X20 Spray Gun. These are my go to guns. They are awesome spray guns – high performance and quality at a fraction of the cost of a Sata or Iwata.
If you want to grab yours, head on over to Zoolaa and check them out.
I'm giving 2-3 coats of base and spraying at about 26-27 psi at a wide open fan. Check out the video as I show you the entire process.
On this stage, take your time doing it. Make sure you cover your silver base coat or primer spots. The worst that you'd want is your primer bleed through on a paint job because you don't have enough base coat on it.
If you want to learn more about DIY auto body work, grab your FREE 85-Page Auto Body And Paint Manual.
It's Tony from LearnAutoBodyAndPaint. If you want to get access to the complete series of the Daihatsu Mini Truck Project, I will be uploading it soon in VIP, so check out the LearnAutoBodyAndPaint VIP Course and secure your slot now.
I hope you enjoyed this short video. Please Like, Share and Subscribe to my videos.
Talk soon! Cheers!
Tony
Other Helpful Links:
Automotive Masking Tips – How To Tape a Car – How To Mask a Car
Step-by-Step Painting a Car In Your Garage – Unmasking Freshly Painted BMW!
Tube Tape Review – How To Mask Your Door, Truck or Hood Jambs FAST!
How To Paint Any Bike, Scooter or Moped Step-by-Step and Get PRO Results
How To Spray Clear Coat Like a PRO – With Metal Flake!