Did you enjoy the video? Check out the LABAP VIP course that will help turn you into an auto body and paint pro, from home!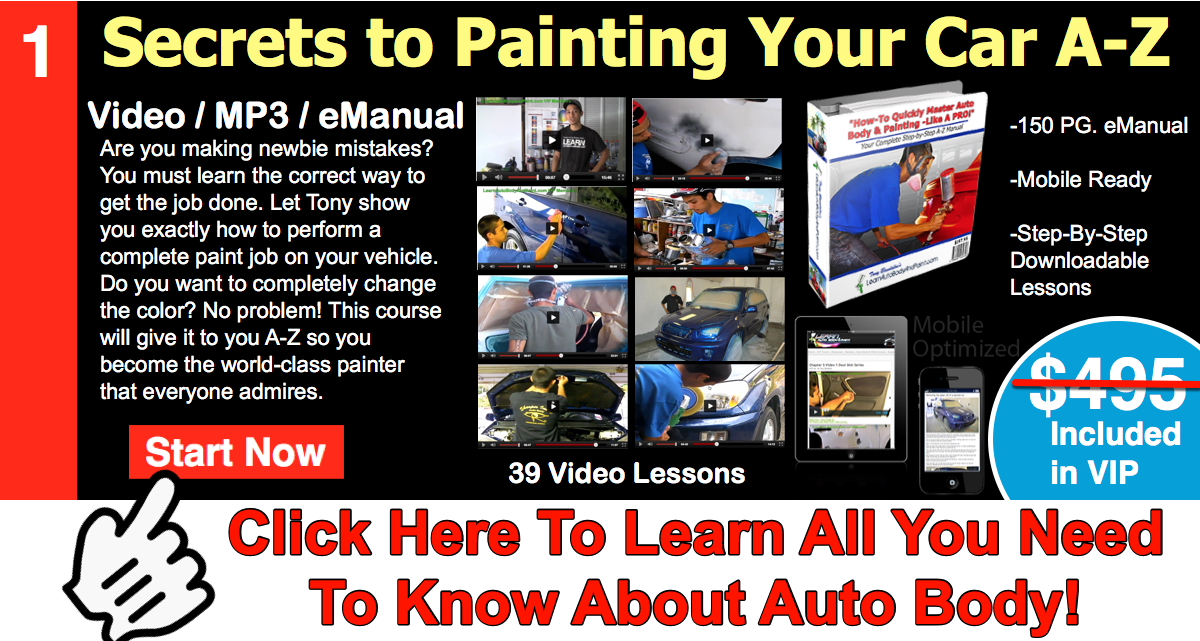 It's Tony from LearnAutoBodyAndPaint. This short video is entitled How-To Spray CLEARCOAT Like a Professional!
We're taking off the fineline tape, which is the dark blue tape you see on video now. The fineline tapos is used when you're making graphics, pinstriping, flames or simply separating colors when you're doing multi tone paint jobs.
We're done with our three-tone paint job and now we'll be painting our clearcoat next. We're getting there and it's looking great. Enjoy the video!
As you can see, we have an overspray, which is not a big deal because the entire bed will be raptor lined. At this stage, the truck is not complete.
The raptor liner is an awesome product. I would definitely use it again for undercoating or for bed liners. It is really durable and I love it.
We had a light overspray in an area of the truck. I'm not happy about it, but the only way to fix it is to try and wipe it out.
However, you can still see it. You can try to sand it, but the best way is to mask it and dust it with base again. Since it's a dual color layer, it's a difficult one, so I'm not going to worry about it.
Another easier option is to try to hide it with pinstripping. I can put a black pinstripe in between. I think black looks cool.
When you use a tack rag, make sure to open it up all the way, then fold it up with a palm size square. Tack everything down before you shoot it.
Make sure not to push too hard with the tack rag and do it lightly because you'll get the glue over the panels.
I'm using the House of Kolor Clearcoat system. I love this brand because they make high quality clearcoats.
We'll put two medium heavy coats on the mini truck and we'll also be using the Atom X21 Spray Gun. I like to spray at around 28-29 psi, trigger pulled looking at the gauge with wide open fan.
If you want to grab your own Atom X21 Spray Gun, check out Zoolaa and grab your own now.
It's Tony from LearnAutoBodyAndPaint. I hope you enjoyed the video. If you want to start your own custom projects, learn more about DIY auto body work and paint by grabbing your own FREE 85-Page Auto Body And Paint Manual.
To get access to the complete Daihatsu Mini Truck Project, secure your LearnAutoBodyAndPaint VIP slot now and be part of our VIP community!
Tony's complete projects are uploaded in the VIP member's area and the program is regularly updated with new content. Secure your slot now.
Please don't forget to Like, Share and Subscribe to my videos. See you in the next one!
Talk soon! Cheers!
Tony
Other Helpful Links:
LOL! More Buffing at 2:30 AM Haha – How To Buff Clearcoat
How-To Spray MIDCOAT & Basecoat – DBC 500 INTERCOAT Spraying
LearnAutoBodyAndPaint: Buffing My Ass Off – The Ninja Buffer
Cleaning your Atom Spray Gun – Grab Your Atom X Series Spray Gun Now!