Did you enjoy the video? Check out the LABAP VIP course that will help turn you into an auto body and paint pro, from home!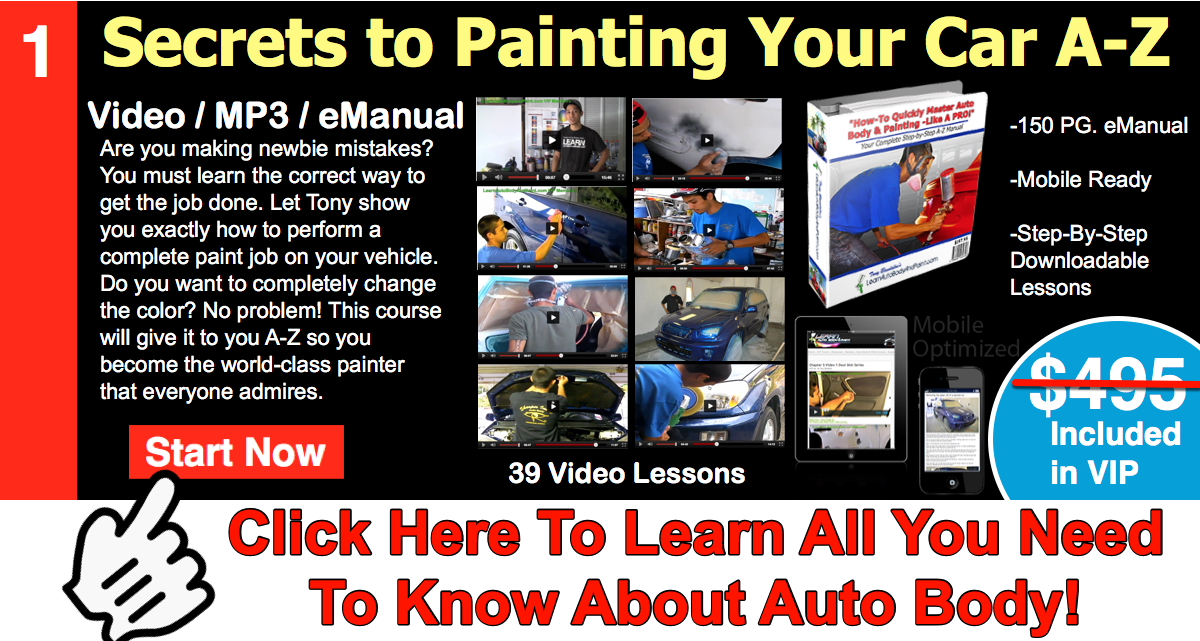 Hi it's Tony from LearnAutoBodyAndPaint. Today's blog is entitled How To Use Body Filler: Mixing, Spreading, Sanding Part 1 of 2.
In this video, I show you how I teach body work to my 15-year old neighbor, Carl. Check out the video.
Remember, when you open up a filler, make sure to mix it up really well because the solvent starts to separate and you get a glazed water on top. Instead of dumping it out, you need to mix it back in.
For every golf ball size of filler, you put about 6-8 drops of hardener. Of course, if you put more hardener, it will dry quick. On the other hand, if you put less, it will take longer to set, which is good because you can play a little bit longer when shaping it. However, if you don't add enough, it will never dry up.
Now, check out Carter as he does the mixing. It's his first time doing fillers.
Then, watch as I demo cutting with 80-grit sandpaper on an orbital DA sander. Make sure to keep it flat to cut flat.
There's a spot where I put a tape on it to avoid getting filler in those grooves. I was thinking of filling them and getting rid of them, which you could do when you're doing custom body work.
However, I decided not to as it would make the side of the truck too plain without them.
It's Tony from LearnAutoBodyAndPaint. I hope you enjoyed this video with Carter. If you want to learn more about DIY auto body work, grab your FREE 85-Page Auto Body And Paint Manual.
To start get cranking and start working on your own car projects, check out the LearnAutoBodyAndPaint VIP Course.
Please Like, Share and Subscribe to my videos! Talk to you soon! Cheers!
Tony
Other Helpful Links:
Block-Sanding Body Filler and DIY Auto Body Talk (Sanding Body Filler on Plastic Bumper)
How To Mix and Apply Body Body Filler on Your Car – Day 3 Boot Camp
Stud Gun Operation and Applying Body Filler
How To Mix Bondo and Body Filler 101