Did you enjoy the video? Check out the LABAP VIP course that will help turn you into an auto body and paint pro, from home!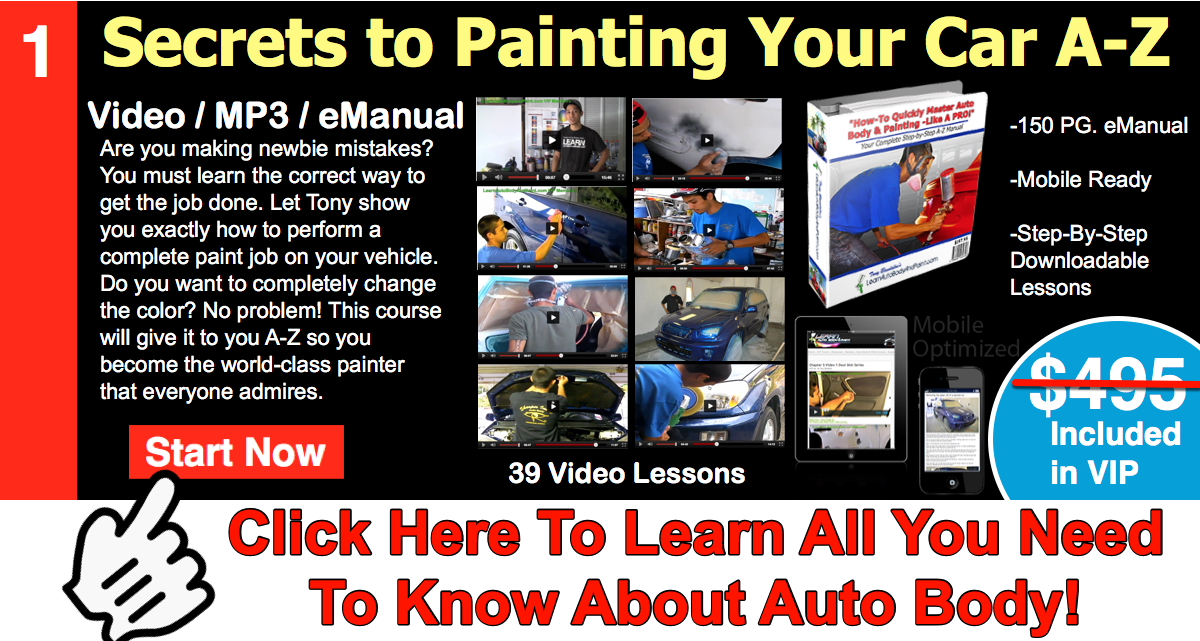 Hey, it's Tony from LearnAutoBodyAndPaint. Welcome to today's  Auto Body And Paint Q&A Live.
A VIP will win something tonight. I am excited! But that's IF you give me the correct answer! LOL! A VIP will win a FREE bag of pearl or flake of your choice.
We started getting in a bunch of parts for the '67 Chevelle Project. I got a 700r4 transmission instead of getting the Turbo350. It was better cruising the highway with it.
I'm already in with a ton of cash with this car and I initially wanted the Turbo350 to save money. However, I decided to get the other transmission.
Another concern is I want the column shift. But, to take advantage of the 700r4, I need to have the column shift or keep it as is but I won't be able to put it into the first.
So, I might do that and if I want to keep it in low gear, I just need to punch the gas and it will kick down into low gear.
I don't want to go crazy because I just want to put everything together and get it on the road.
Here's another thing that made me think. Do I want the electric fuel pump or go mechanical? I already got the mechanical, nicely polished, aluminum one.
I wish I can show the car to you, but I might lose connection if I move the laptop to the garage. The entire series of project will be in the VIP member's area.
For those of you who are not yet part of the VIP community, check out the LearnAutoBodyAndPaint VIP Course and be a #bosspainter!
Let's go ahead and make a quick Q&A!
Question: Do you sand past the clear into the basecoat when you re-spray a car? Or can you just scuff the clear and paint on top of it? [10:24]
This is an awesome question! You can just scuff the clear coat and paint right on top of it.
Clear coat is a great foundation to put new base coat clear coat over. If you have chips and fading, then you will need to blend it, feather it in. Sometimes, you will need to prime that because it may show through your base coat.
Question: What type of paint should I use to paint my car in my gazebo? [14:36]
You can use base coat clear coat. I think this will give you more room to mess up because your base coat dries on pretty quick.
If you have debris on it, you can just tack it off. And, in your clear coat if you get some dirt in it, you can just color sand and buff it right out.
The single stage enamels are very sticky paint. It lays on glossy but you need to put 2-3 coats on it. If you get dirt in it, you can take it out with your finger nails.
Question: What's the difference between the Atom X21 HVLP and the LVLP? Do they use the same tip? [16:36]
No, they don't use the same tip. There are more holes in the HVLP than the LVLP. The LVLP is made more for spraying clear coat, while the HVLP is more for base coat.
If you want to check out these awesome Atom Spray Guns, head on over to Zoolaa and learn more about our Atom Series.
It's Tony from LearnAutoBodyAndPaint. I hope you enjoyed tonight's live show. Don't forget to grab your FREE 85-Page Auto Body And Paint Manual to start cranking on your own custom car projects.
Before we end this, don't forgot to HIT the Like button! Please subscribe and share my videos! Thanks everyone for joining me tonight. Until the next live show!
Talk soon! Cheers!
Tony
Other Helpful Links:
Auto Body Q&A + The New Chevy 350 Crate Engine Reveal!
LearnAutoBodyAndPaint: Learn Auto Body Live by Tony Bandalos
Auto Body Q&A – What You Working On Now?
Let's TALK Auto Body! 8:30 PM CST
DIY How To Bondo Auto Body Repair (Tips and Tricks) Mix and Apply Body Filler