Did you enjoy the video? Check out the LABAP VIP course that will help turn you into an auto body and paint pro, from home!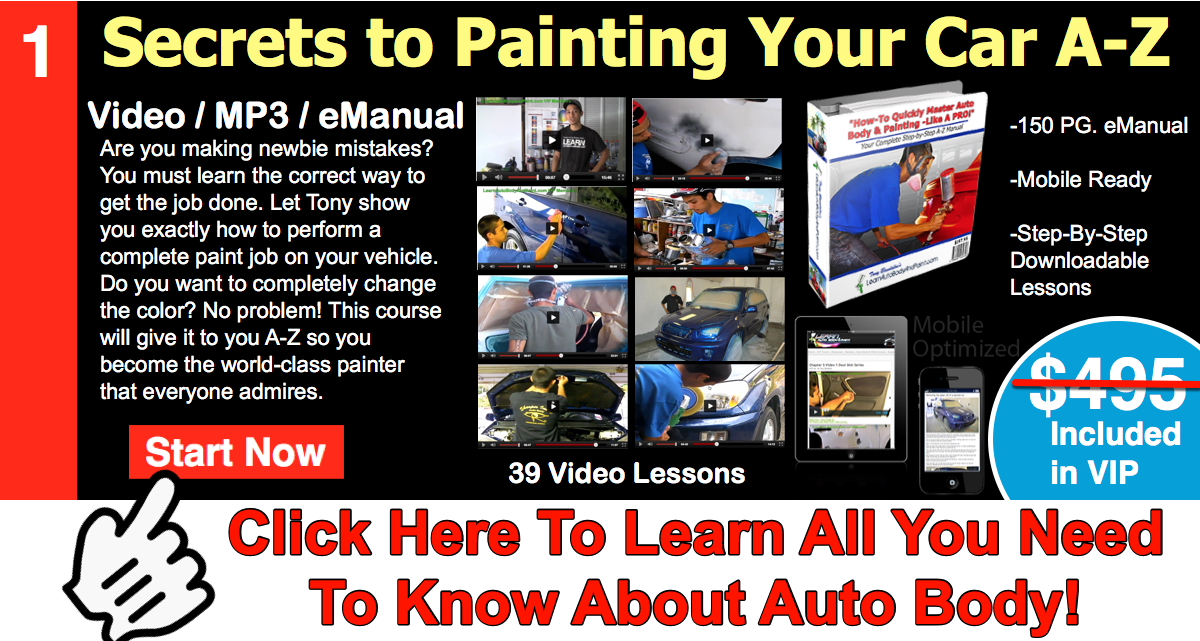 Hey, it's Tony with another live stream. Today's blog is all about, "Let's TALK Auto Body! 8:30 PM CST".
I got a really high quality hood scoop. It is super thick and I don't see any waves or ripples on it. I'm not sure what type of material this is, but it's like an injection mold plastic.
I'm going to put this on the truck, but some of you might think it's corny. I was thinking of getting a complete hood with the hood scoop, but why should I do that when I can just make my own.
We'll mold it in and respray the entire hood. It will be orange. We'll basically grind the area, epoxy and mold it in.
I'm doing this to give you more content and to show you what you can do and what's possible. I did something similar to this in the past. I mounted in a 4-inch cowl induction hood on my '67 Camaro. We molded it in and looked really good.
Question: What's the minimum temperature you can paint your truck? [12:18]
I would say about 65 degrees. The best temperature to paint in your garage would be about 75 degrees to 85 degrees would be the most comfortable temperature to paint in.
Question: How would you paint an interior that has surface rust? [12:45]
If it's surface rust, you need to sand it out and prime it.
Question:  What type of epoxy will you be using for the hood scoop? [15:34]
I will be using the 3M panel bonding epoxy, which is a 2-part epoxy. We mix it up and make sure that everything is grinded and you can even grind to metal.
That epoxy is can bond anything. You can bond fiberglass to metal, metal to metal and/or plastic to metal, which is what we're going to be doing.
Question: Do you prefer to paint the entire car or blend the original paint? Especially in the case where the car suffers from clear coat failure. [19:14]
If you have clear coat failure, it would be wise to just paint the whole car. There's no sense in sanding the clear coat down and re-clear it. If you're sanding the clear coat down, it will cut to the metal in some areas.
It is wiser to put a fresh coat of base coat on it and then clear it. It's senseless just clearing it. It won't work that way.
For those of you who would like to get started with your own custom car projects, don't forget to grab your FREE 85-Page Auto Body And Paint Manual.
If you want to get complete access to my projects in VIP, and those that I will be uploading in the future, check out the LearnAutoBodyAndPaint VIP Course and get cranking!
It's Tony from LearnAutoBodyAndPaint. I'll be making so many videos as soon as it gets warm and will be using the Atom X Series Spray Guns in this videos. Go check them out on Zoolaa.
I'm excited to start working and making videos for all of you, so stay tuned. Like and Subscribe to my videos.
I need to head out soon. I'll be going on a trip with my family tomorrow so will be need to off soon. Thanks everyone for joining me today. I hope you enjoyed today's live show.
Talk soon! Cheers!
Tony
Other Helpful Links:
DIY Auto Body Live Q&A Plus Updates! 8:30 PM CST
Auto Body Q&A – What You Working On Now?
Block-Sanding Body Filler and DIY Auto Body Talk (Sanding Body Filler on Plastic Bumper)