Did you enjoy the video? Check out the LABAP VIP course that will help turn you into an auto body and paint pro, from home!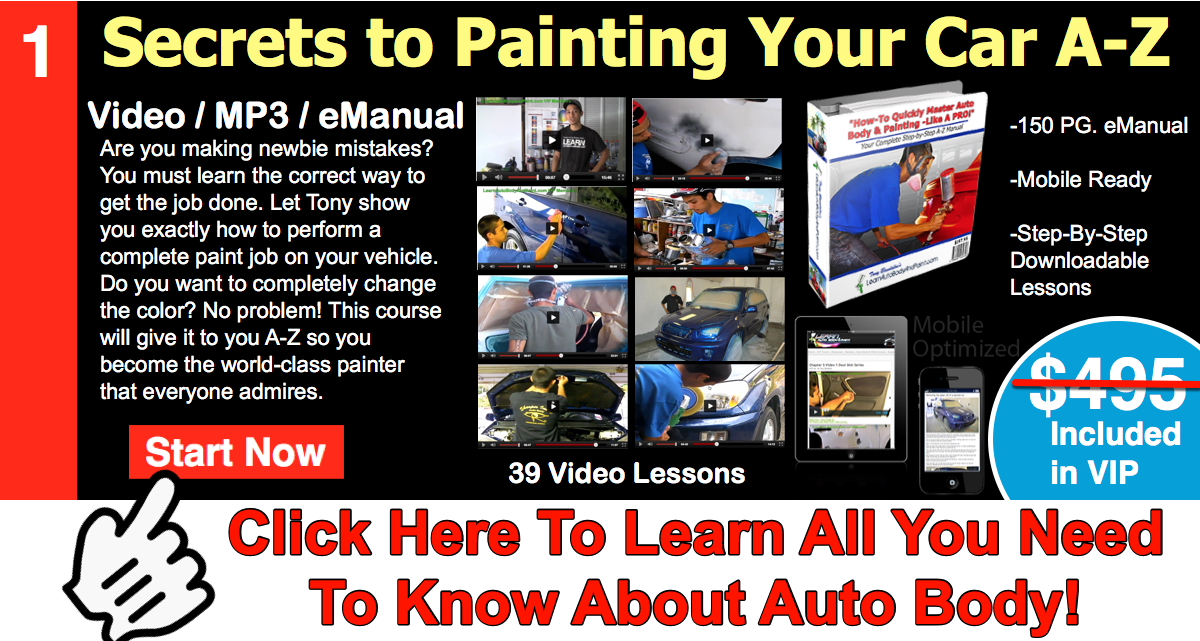 Hey, it's Tony from LearnAutoBodyAndPaint. Thanks for joining me today. Our topic for this session is Quarter Panel Body Work and Paint.
How is everybody doing? I have my new DA pad from Amazon. This is a Neiko pad which is pretty good. It's solid. It feels like rubber and I like it.
I was on the phone with Atom and we will have the Atom X27 Spray Gun on stock most probably on July 27. But we will have a pre-order sale before that. For those who have not yet checked out the Atom Spray Guns, head on over to Zoolaa now.
Watch the video as I show you the Atom X27 Spray Gun sample. The HVLP will be in chrome while the LVLP is a flat color. These are basically the clone of a SATA 5000. We will be giving these away to two lucky VIP members. I am excited!
These are really awesome guns. Technically, the LVLP or the MP guns are better for clear coat.
I have here my 2003 Toyota Tacoma which I backed into a tree in the past. We basically smashed out the back and cracked up the chrome piece.
I already pulled the dents out and replaced the chrome. Everything was recorded step by step and will be uploaded in the member's area, so there's something new for the VIPs!
I still have some work to do on this truck but everything will be uploaded soon. Watch out for it.
Let's go ahead and take off this TRD 4×4 decal using your wife's hair dryer. But tonight, we don't have to borrow their hairdryer since we will be using the Tacklife.
This looks pretty cool because it comes with different tips, depending on the work you need done. It's pretty cheap. Let's go ahead and peel this decal off quick. Watch the video.
I also used the Black Hawk Porto Power to basically jack out or pull the whole quarter panel out and we hit the high spots with our hammer while doing it.
Now, all we have to do is body work some areas since we still have some waviness, blend it then clear the quarter panel.
For those of you who want to get started on their own custom projects, grab your FREE 85-Page Auto Body And Paint Manual and get cranking.
If you want a more comprehensive auto body work and paint guide, check out the LearnAutoBodyAndPaint VIP Course. There's a lot of content in the VIP member's area which I'm absolutely sure will benefit you as you go cranking on your own custom car projects!
It's Tony from LearnAutoBodyAndPaint. Thanks everyone for joining me today. Don't forget to SMASH the Like button, share and subscribe to my videos.
Talk soon! Cheers!
Tony
Other Helpful Links:
LearnAutoBodyAndPaint: Auto Body And Paint Q&A Live
GLOSS: Final Clearcoat Application & Unmasking The FRESH Paint Job!!
LearnAutoBodyAndPaint: Learn Auto Body Live by Tony Bandalos
Custom paint screw up and metal flake plan
How To Make Your Car Look STUNNING After Your New Paint Job!